Police on the scene of a shooting at Glenwood Avenue and Islington Street.
THE BLADE/JEREMY WADSWORTH
Enlarge | Buy This Image
Police have responded to a possible shooting on Glenwood Avenue near the intersection of Islington Street in central Toledo.
The call of a person who might have been shot and was lying in the street came in just before 7 p.m. today. The victim was coherent and talking to police upon their arrival.
Details of the incident were not immediately available.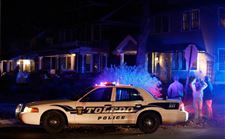 Police and bystanders on the scene.
THE BLADE/JEREMY WADSWORTH
Enlarge | Buy This Image