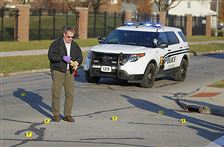 Toledo Detective Terry Cousino picks up shell casings at Page Street and Mayville Place after the shooting outside Moody Manor.
THE BLADE/ANDY MORRISON
Enlarge | Buy This Image
One person was shot Friday outside the Moody Manor, police said.
The victim, who was not identified Friday, was shot once in his left shoulder at 2:42 p.m., Sgt. Paul Cunningham said. The victim was taken to Mercy St. Vincent Medical Center.
Extra police were sent to the hospital for a reported gathering of gang members after the shooting.
The victim told police he was standing in a grassy lot at Page Street and Mayville Place when a tan Pontiac Montana pulled up and the passenger started shooting.
Police collected 14 shell casings from the scene.
Moody Manor is "claimed" by the Manor Boyz, a Bloods gang, as part of its "territory." The central-city apartment complex and surrounding area are infamously known for gang activity and violence, including a shooting in August, 2012, that killed Keondra Hooks, 1, and seriously wounded her 2-year-old sister Leondra.
Three members of the Manor Boyz were convicted for Keondra's death.
Guidelines: Please keep your comments smart and civil. Don't attack other readers personally, and keep your language decent. Comments that violate these standards, or our privacy statement or visitor's agreement, are subject to being removed and commenters are subject to being banned. To post comments, you must be a registered user on toledoblade.com. To find out more, please visit the FAQ.