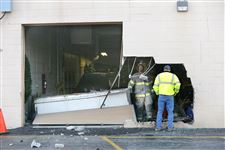 Authorities look at the hole left by a vehicle that slid on the icy pavement and drove into a building Tuesday at 3622 W. Sylvania Ave. near Christ the King Church.
THE BLADE/AMY E. VOIGT
Enlarge | Buy This Image
Sheets of ice reported on area roads early Tuesday were factors in a flurry of crashes, one of which left hundreds of electric utility customers without power for two hours in Rossford and another that damaged a building in Toledo.
About 500 Toledo Edison customers were left without power in the area of Lime City Road and the Grassy Creek subdivision in Rossford after a car spun out of control on ice-covered Wales Road, said Debbie Paul, a Toledo Edison spokesman. The crash occurred on Wales at Buck Road about 8:15 a.m., felling power lines, damaging a utility pole, and taking Buck Road traffic signals out of service, Rossford police said.
No injuries were reported in the crash, police said. Edison restored power to all of the affected in two hours, according to the utility spokesman.
Earlier in the day, a vehicle crashed into a building on West Sylvania Avenue in West Toledo, possibly injuring the driver, whose name was not released.
The crash occurred about 7:45 a.m. in the 3600 block of West Sylvania, Toledo police said. There were reports of sheets of ice on area roads at the time.
Toledo police said the crash was initially reported to them as an injury crash. A Lucas County EMS dispatcher said no one was transported from the scene to a hospital.
The crashes remained under investigation.
Guidelines: Please keep your comments smart and civil. Don't attack other readers personally, and keep your language decent. Comments that violate these standards, or our privacy statement or visitor's agreement, are subject to being removed and commenters are subject to being banned. To post comments, you must be a registered user on toledoblade.com. To find out more, please visit the FAQ.