Booker
A Toledo man who was found dead outside a night club on Airport Highway in South Toledo after an apparent shooting early Sunday had left messages on his Facebook page expressing strong feelings about men fighting over women and vice versa just hours before his death.
RELATED: Toledo Homicide Database
Lamar R. Booker, 23, was found dead about 3:40 a.m. Sunday in a parking lot at Club Status, 3122 Airport, Toledo police said. Officers who found him were investigating a report of shots fired, according to police.
On his Facebook page about eight hours before he was found dead, Booker posted a message saying that women fighting over a man disgusts him, and that a man fighting over women is weak.
Three hours before that, he put up a post saying, in part, "Everybody want to be known Everybody want to be popular Everybody want to be seen."
Police did not say whether Booker had been shot or whether he was an intended victim. A Lucas County coroner's investigator on call could not be reached for comment.
A search of Ohio birth records revealed that Booker, whose date of birth is Aug. 24, 1990, according to police, was born in Toledo, with Consuelo Davis listed as his mother and Antonio R. Booker as his father. They could not be reached for comment.
People who answered the door at Booker's last known address in North Toledo said they were the only ones living there. They said they had lived there for six months and had never met him.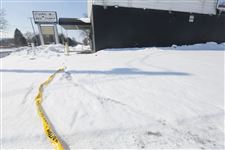 Police security tape remains outside of Club Status on Airport Highway. Police are investigating the apparent shooting death of Lamar Booker at the club on Sunday.
The Blade/Amy E. Voigt
Enlarge | Buy This Image
The whole parking lot at Club Status remained marked as a crime scene Sunday afternoon, with no people or signs of any makeshift memorial nearby.
On his Facebook page, Booker also wrote that he had attended Rogers High School and Owens Community College, and had been "self-employed" since 2006. He did not list his occupation.
He listed In Too Deep as one of his favorite movies, Shadowgun and Dead Trigger as his favorite video games, and Jill Scott and Drake as his favorite musicians.
In August, 2009, Booker entered a plea of no contest and was found guilty in Lucas County Common Pleas Court of a burglary charge.
According to the Gangs of Toledo map developed by The Blade, Booker was found next to the boundary of the territory controlled by the Southside Folk "backyard" gang. Police did not say whether the incident was gang-related.
There was no report of arrests. The incident remained under investigation by police, who released no further information.
Contact Mike Sigov at: sigov@theblade.com, 419-724-6089, or on Twitter @mikesigovblade.
Guidelines: Please keep your comments smart and civil. Don't attack other readers personally, and keep your language decent. Comments that violate these standards, or our privacy statement or visitor's agreement, are subject to being removed and commenters are subject to being banned. To post comments, you must be a registered user on toledoblade.com. To find out more, please visit the FAQ.