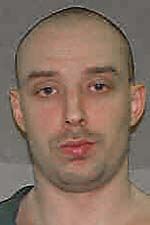 Legg
Ohio Highway Patrol officials are working on a use-of-force investigation after an inmate at the Toledo Correctional Institution suffered critical head injuries during a scuffle with a corrections officer.
The inmate, Richard Legg, 30, was injured early this month, according to reports from Highway Patrol and Toledo Correctional.
Legg, who is serving a three-year sentence for burglary and receiving stolen property, is in a prison infirmary where he continues to receive treatment, said Christopher Barth, a friend of Legg.
Mr. Barth, who is Legg's emergency contact, has not been able to communicate with Legg since before the incident.
According to a "special incident report" from the prison, Legg was in line for dinner at 5:25 p.m. Feb. 1 when an officer, only identified as Officer Smith, told Legg to put his hands on a wall for a pat-down search.
Legg complied and was searched, the report states.
The officer told Legg to go to the end of the hallway and Legg reportedly refused. An argument turned into a scuffle and the officer put Legg in an "escort hold" before Legg pulled away, the report states.
The officer used the same hold and a struggle ensued between the inmate and officer.
Legg was taken to the ground and hit his head, according to the report.
Toledo firefighters were called and Legg was taken to Mercy St. Vincent Medical Center for treatment.
Officials would not comment on Legg's injuries, but Mr. Barth and prison sources said Legg suffered bleeding on his brain.
The prison's "special incident" report redacted Legg's injuries.
"How long does it take to investigate?" Mr. Barth asked. "They have cameras all over. I want someone to look into it or at least ask a couple questions."
An email to Toledo Correctional spokesman Darlene Mitchell requesting comment was returned with an acknowledgment of the request, but no comment was provided.
An update on the investigation from the Highway Patrol, which investigates all incidents at the prison, was not provided Thursday.
In a two-page incident report from the Highway Patrol, the brief narrative reads: "The suspect, a corrections officer at Toledo Correctional Institution, was attempting to physically restrain the victim, an inmate. The victim was taken to the ground, striking his head on the floor."
Mr. Barth said he spoke with a nurse who is treating Legg and was only told that Legg is "in a lot of pain."
Contact Taylor Dungjen at tdungjen@theblade.com, or 419-724-6054, or on Twitter @taylordungjen.
Guidelines: Please keep your comments smart and civil. Don't attack other readers personally, and keep your language decent. Comments that violate these standards, or our privacy statement or visitor's agreement, are subject to being removed and commenters are subject to being banned. To post comments, you must be a registered user on toledoblade.com. To find out more, please visit the FAQ.