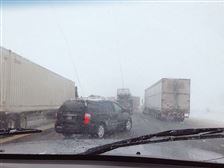 Sandusky County prosecutor said he was unsure why the grand jury decided to not go forward with charges in crash that killed three.
OHIO HIGHWAY PATROL Enlarge
FREMONT — A Sandusky County grand jury declined to indict two drivers who could have faced charges of vehicular homicide stemming from a series of crashes that killed three and injured a trooper on the Ohio Turnpike in March.
The case against two drivers was presented Tuesday. County Prosecutor Thomas Stierwalt said he was unsure why the grand jury decided to not go forward with charges.
Killed in the March 12 chain-reaction crash were Hannah Matheny, 20, of Parma; Grzegorz Piwowarczyk, 42, of Palatine, Ill., and Janice Robb, 66, of Schererville, Ind.
Authorities said the crash was caused by tractor-trailer driver Lupe Loya, 65, of Puyallup, Wash., who had been cited for failure to control after authorities said he lost control of his semi amid high winds.
Tahir Isic, 46, of Wheaton, Ill., was also driving a semi when he collided with a Ford Focus in which Ms. Matheny was a passenger. The Focus was stopped to avoid the pile-up in front of it.
The injured trooper was Andrew Clouser, who was pinned between two of the vehicles after he responded to the scene.
Highway Patrol officials said Tuesday that Trooper Clouser is "in physical therapy but expected to make a full recovery."
Highway Patrol troopers who investigated the crash cited drivers' speeds, road conditions, and weather as factors in the crashes.
Contact Taylor Dungjen at tdungjen@theblade.com, or 419-724-6054, or on Twitter @taylordungjen.
Guidelines: Please keep your comments smart and civil. Don't attack other readers personally, and keep your language decent. Comments that violate these standards, or our privacy statement or visitor's agreement, are subject to being removed and commenters are subject to being banned. To post comments, you must be a registered user on toledoblade.com. To find out more, please visit the FAQ.