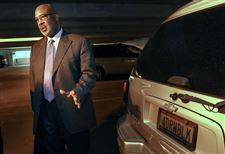 Toledo City Councilman Larry Sykes said Tuesday said he would not resign, although he is satisfied that the two Toledo police officers were 'justified' when they stopped him for not having a front license plate.
THE BLADE/LORI KING
Enlarge | Buy This Image
A Toledo police union official said the city councilman who accused two officers of profiling to initiate a traffic stop should resign after the allegations were found to be unsubstantiated.
"I truly find it reprehensible that a city leader would levy such an allegation against city officers and misrepresent the facts as they truly occurred, alter the vehicle after the fact, and create a condition in the city that's going to take years to repair," said Dan Wagner, president of the Toledo Police Patrolman's Association. "He made the jobs of the men and women on this force that much harder … and for that he should resign."
VIEW: Toledo Police Department internal affairs review of Larry Sykes accusations, 74 pages

After Councilman Larry Sykes, who is black, was stopped on April 24, he wrote a letter to police Chief William Moton, who is black, claiming he was profiled by two white officers and pulled over without any apparent probable cause. The letter, dated April 30, prompted a "major complaint" internal-affairs investigation.
The police investigation found Mr. Sykes' claims to be unfounded. The report, the in-car video of the traffic stop, and audio recordings of interviews with internal affairs officers were released on Tuesday.
Internal affairs investigators ruled that there was just cause for the traffic stop — Mr. Sykes did not have a front license plate, as required by law, and his back license plate was difficult to read, which is also a violation of state law.
During interviews with internal affairs, one of the officers said the vehicle's windows are tinted and he could not see who was driving or how many people were inside.
Mr. Sykes on Tuesday said he would not resign, although he is satisfied that the two Toledo police officers were "justified" when they stopped him because his vehicle lacked a front license plate.
"I probably could have gotten a ticket," Mr. Sykes said regarding his lack of a front plate. Mr. Sykes' vehicle, on Tuesday, still did not have a front plate but a plastic cover was back on the rear plate.
Mr. Sykes, a former Toledo Board of Education member who was elected in November to city council, was stopped on South Byrne Road, near South Avenue, at about 9:17 p.m. on April 24 after leaving the studios of WGTE-TV for a program on senior citizens and hunger.
An internal affairs report stated that the two officers — Derek Cranford, a three-year veteran, and David Sprott, a rookie officer who was on his fourth shift — saw that Mr. Sykes' sport-utility vehicle lacked a front license plate, which prompted them to follow the vehicle.
When the officers could not read the rear license plate, they decided to stop the vehicle.
Once Mr. Sykes stopped, as shown in video and documented in the internal-affairs report, Officer Cranford, who was driving the patrol car, got out of the car and approached Mr. Sykes' vehicle and tapped a knuckle twice on the driver's-side window.
Window down, the officer asked Mr. Sykes how he was doing.
"Doing great. What's the problem officer?" Mr. Sykes said.
"I can hardly read your license plate with that license plate cover on it," Officer Cranford told him.
In Ohio, a motorist must display a license plate on the front and rear of the vehicle. The Ohio Revised Code also calls for all license plates to be securely fastened and not to be covered by any material that obstructs visibility. A person can be charged with a minor misdemeanor, which carries up to a $150 fine, for violation of the code.
The officer asks several other questions, including verification of Mr. Sykes' current address, if he owns the vehicle, where he is coming from, where he is going, and if he has any weapons or drugs in the vehicle.
In the letter to Chief Moton, and repeatedly in interviews with internal affairs investigators, Mr. Sykes said Officer Cranford never gave a reason for the traffic stop.
Investigators noted that the second statement Officer Cranford made to Mr. Sykes, after asking how he was doing, was to say he could not read Mr. Sykes' license plate.
Officer Cranford mentioned the difficult-to-read plate at least one other time during the traffic stop, according to the internal affairs report.
Plastic cover used
Video of the police stop shows Mr. Sykes had a plastic cover on his rear license plate, which are commonly used to obscure the letters and numbers from red-light cameras — and officers straining to read the plate.
Nearly two weeks after the traffic stop, Mr. Sykes told The Blade he did not have any kind of cover on his license plate when police pulled him over. Mr. Sykes allowed a Blade photographer to photograph his license plate on May 5. There was no cover on the plate at that time.
Tuesday, Mr. Sykes did not explain why he told The Blade and other reporters that he did not have a transparent plastic plate cover on his vehicle when the two officers stopped him last month.
When asked about that, Mr. Sykes said he had removed the plastic cover after the stop to clean it and that he also paid $11 for a new license plate light bulb to be installed.
During his May 6 interview with internal affairs, Mr. Sykes told officers he removed the plastic cover from his license plate — on either May 5 or May 6 — because he was intending to wash his vehicle. He also said the cover was dirty.
Mr. Sykes said the incident angered him because he was not speeding, did not run a red light, and was not driving his 2005 Chevrolet TrailBlazer erratically.
'I was profiled'
"So why would he need to check the license plate or what cause would he have had, the only reason that I can come up with, is that I was profiled," he wrote to the chief.
"I would like an explanation as to why this young officer would search for a reason to pull me over or look at my plate," he wrote. "My license plates are big and bold, and it makes no sense why he would not be able to read it, I've had these license plates for the last 20 years and it is because I have been profiled so many times and stopped for driving while black."
His license plate reads "4DRWBLK," which stands for "4 driving while black."
Mr. Sykes called for the investigation and wanted to know if other motorists in Toledo are "treated the same way."
Internal affairs officers analyzed all of the traffic stops in which Officer Cranford was the primary officer from Feb. 9 through April 24. They noted reasons for the stops and which questions Officer Cranford asked during the stops.
The analysis showed that, in 30 traffic stops, Officer Cranford offered a reason for the stop in 29 instances. In 24 stops, Officer Cranford asked the drivers where they were going; in 21 of the stops, Officer Cranford asked the drivers if they had guns or drugs in their vehicle.
Apology sought
Mr. Wagner said Mr. Sykes needs to publicly apologize to Officers Cranford and Sprott.
"This was one of the most professional traffic stops I've viewed on video tape. It even ended with a handshake," Mr. Wagner said.
Mr. Wagner said members of the police union have inquired about what would be necessary to initiate a recall of Mr. Sykes from council.
"We'll see what happens in the next day or so, if he's disciplined, if he disciplines himself. If the members want to go forward with a recall, we'll look at that," Mr. Wagner said.
Mr. Sykes said on Tuesday that he never mentioned in his letter to Chief Moton that he believed he was "racially profiled," only that he was "profiled."
"I never suggested it was racial profiling," Mr. Sykes said. "You can be profiled for all sorts of reasons."
During the interview with police internal affairs, Mr. Sykes spoke of other profiling instances.
"Toledo police, Highway Patrol, Ottawa County. I was stopped in Georgia 6 o'clock in the morning on my way to Hilton Head with some friends on a four-lane highway," he said.
In 2002, Mr. Sykes, when he was on the Toledo Board of Education, sued Ottawa County's Carroll Township Police Department, alleging he was illegally detained for racial reasons while taking a walk along State Rt. 2.
The suit was filed in Ottawa County Common Pleas Court over the stop on Jan. 12, 2002, near a unit he owned in the Green Cove Condominium complex.
It said Mr. Sykes was out exercising along the two-lane highway when an officer stopped him and began questioning him. The officer refused to say why he had stopped Mr. Sykes and ordered him to wait while he checked for warrants, according to the suit.
After about 20 minutes, the officer determined Mr. Sykes had no warrants and allowed him to leave, according to the complaint.
"Defendants' actions in stopping, seizing, and depriving plaintiff of his liberty were intentionally motivated by plaintiff's race," according to the suit.
Mr. Sykes said there was a "cash settlement" in the case because the officer "violated his civil rights." He declined to reveal the amount. Court records do not not show the settlement amount and township officials have not returned multiple telephone calls seeking comment.
In December, 2007, Mr. Sykes was pulled over by a Toledo police officer for driving more than 50 mph in a 35 mph zone and changing lanes without signaling. The officer did not cite him for speeding but wrote on a ticket that he had "difficulty reading license plate due to tinted plexiglass plate cover."
Jail incident
In June, 1989, Mr. Sykes was arrested for drunken driving. Months later, he accused Lucas County sheriff's deputies of beating him and smashing his head against a table. He said four deputies attacked him in the Lucas County jail booking area.
At the time, then Sheriff James Telb said Mr. Sykes' version of the story was incorrect.
"It didn't happen the way Larry said it happened," Sheriff Telb told The Blade in 1989. "Our preliminary investigation shows nothing happened to Larry. That's not to say there wasn't a struggle. There may have been a struggle."
The former sheriff could not be reached for comment.
Retired Lucas County sheriff's Capt. Robert McBroom, who investigated that claim, said it was a frivolous accusation.
"The FBI came to the same conclusion that it was all frivolous," he said.
Contact Taylor Dungjen at tdungjen@theblade.com, or 419-724-6054, or on Twitter @taylordungjen.
Contact Ignazio Messina at: imessina@theblade.com or 419-724-6171 or on Twitter @IgnazioMessina.
Guidelines: Please keep your comments smart and civil. Don't attack other readers personally, and keep your language decent. Comments that violate these standards, or our privacy statement or visitor's agreement, are subject to being removed and commenters are subject to being banned. To post comments, you must be a registered user on toledoblade.com. To find out more, please visit the FAQ.