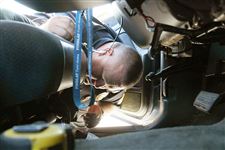 Sgt. Doug Baker searches a vehicle for drugs during an enforcement sweep in Northwood that included Oregon and Perrysburg Township police departments and the Wood County Sheriff's Office.
THE BLADE/ISAAC HALE
Enlarge | Buy This Image
Something about the guy just seemed a little suspicious.
When he saw the police car monitoring traffic, he slammed on the brakes of his pickup, nearly sending ladders too big for the bed into the road.
Busted.
Northwood police Sgt. Doug Hubaker pulled his marked police vehicle behind the pickup truck once it was parked at the Ameristop carryout on East Andrus Road. Truck windows down, it didn't take long for the smell of marijuana to drift to the sergeant's nose.
It was the first — and only — drug bust of an eight-hour drug interdiction Thursday in Northwood, aided by Oregon police, Perrysburg Township police, and the Wood County Sheriff's Office. From the suspect's truck, officers took a small plastic sandwich bag of marijuana and a glass pipe.
The driver, who had a suspended driver's license, was cited. His ex-wife, who happened to be visiting the Ameristop herself, made arrangements for someone to come get the truck.
Although few drugs were found, the sergeant still called the multi-jurisdiction effort a success.
"It's crime suppression," he said. "If we get guns, that's great. If we get drugs, that's great. If we get stolen credit cards, that's great."
The officers working the enforcement special split into two teams, dividing the city and doing focused patrols — making traffic stops and looking for suspicious behavior that might lead to a significant drug seizure. Thursdays concentrated enforcement yielded 37 traffic stops, two arrests for felony forgery charges, two drug-related citations, and seven traffic citations.
The extra police presence in Northwood on Thursday was obvious — and it was meant to be, at least to an extent. Officers, on several occasions, backed into hidden parking spots to watch people, who seemed to loiter for a little too long. None of the brief stakeouts yielded arrests.
In Northwood, as in many cities across the country, heroin is the problem drug. There has been one confirmed heroin-related death, the sergeant said.
"That's the big problem right now," he said. "That's the drug that's killing people."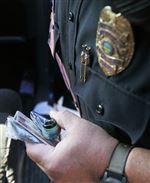 Drug paraphernalia is recovered during the drug-enforcement sweep in Wood County. Officers issued two drug-related citations in the 8-hour period. The officers working the enforcement detail split into two teams, dividing the city and doing focused patrols.
THE BLADE/ISAAC HALE
Enlarge | Buy This Image
In the city, there is a small core of drug offenders — sellers and users.
"You're not going to find a town around the Toledo area that doesn't have a dealer and users," said Sergeant Hubaker, who spent more than two years on the Toledo Metro Drug Task Force.
Moving from policing in a town with a population of only about 5,300, the shift to the big city and the task force made some days more memorable than others.
"Coming from Northwood, I'd hardly seen crack cocaine — I'd never seen heroin," said the sergeant, who has worked in law enforcement for 24 years.
Although Northwood pulled him off the task force in 2009 when they laid off three officers and needed to bolster road patrol ranks, Sergeant Hubaker remembers searching houses of drug dealers and finding tens of thousands of dollars hidden in shoe boxes.
Because, of course, it's all about the shoes.
"You could tell the level of the drug dealer by the number and quality of the shoes in their closet," he said.
Contact Taylor Dungjen at tdungjen@theblade.com, or 419-724-6054, or on Twitter @taylordungjen.
Guidelines: Please keep your comments smart and civil. Don't attack other readers personally, and keep your language decent. Comments that violate these standards, or our privacy statement or visitor's agreement, are subject to being removed and commenters are subject to being banned. To post comments, you must be a registered user on toledoblade.com. To find out more, please visit the FAQ.