Editor's Note: This version of the article corrects persons named in dumping charges.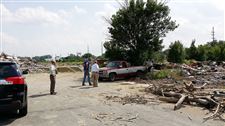 Mayor D. Michael Collins, Chief of Staff Bob Reinbolt, and Joel Mazur, assistant chief of staff, investigate two men taking bricks from the former Champion Spark Plug plant on Upton Avenue. Collins and Reinbolt also caught two men in the process of illegal dumping.
Old habits die hard.
Former police officer and now Mayor D. Michael Collins, who is engaged in an effort to eliminate blight in the city, questioned two men whom he caught allegedly illegally dumping discarded concrete at a former industrial site.
According to Chief of Staff Bob Reinbolt, he and the mayor, along with assistant chief of staff Joel Mazur, went to inspect the former Champion Spark Plug site on Upton Avenue about 4 p.m. Monday.
"We were kind of discussing Champion. I said I hadn't been over there in awhile. The mayor said let's drive by," Mr. Reinbolt said. They saw a truck and two men discarding old cement.
RELATED ARTICLE: Toledoans urged to join fight as Tidy Town initiative gets started
Mr. Reinbolt said both he and Mr. Collins showed their badges. Mr. Collins has a badge as a retired police officer, while Mr. Reinbolt has a badge because he is also the safety director.
"We did confront them. They admitted they had been told by the owner that they could dump on the property. The mayor reverted to his old police role and was looking at their driver's license and then we did have the police come. Nobody was arrested. They were given warnings that if they were caught again they would be fined," Mr. Reinbolt said.
"They were very apologetic," he said.
He said two other people were taking bricks at another location at the Champion parcel and the police were called on them, as well. Mr. Reinbolt said he doesn't believe the two individuals were arrested.
According to a police report, Robert Garcia, 51, of 820 Dunwood Ct. and Ricardo Garcia, 54, of Swanton were warned about dumping in a prohibited place.
Mark Lino, Sr., 49, of 2146 Elliott Ave. and Jeremy Howard, 42, of 1440 Macomber St. said they had permission to take bricks from the location. Assistant Chief of Staff Joel Mazur said the city does not prohibit the removal or material as long as it is done with the approval of the property owner.
The mayor's spokesman, Lisa Ward, posted pictures of the incident on the city's Facebook page Monday.
The property at 914 Upton is owned by Moorehouse Real Estate Development LLC. The 14.7-acre parcel was once used by Champion to manufacture spark plugs.
"It's clearly a problem area that we need to take a close look at and get the owner to do something, or take some action on our part," Mr. Reinbolt said.
"There clearly is illegal dumping going on there. You can't bring more materials onto a site that is already under orders to be cleaned up."
The city's division of code enforcement mailed a 72-hour cleanup notice to Moorehouse owner Donzell Moore on July 3, according to Chris Zervos, director of inspection. He said Mr. Moore demolished four buildings on the site and now must clean up the property, which includes finishing the demolition, cleaning up the mess, grading, and seeding.
Land records show Mr. Moore acquired the land in 2013 for $1 from ASD Investments LLC, of Florida, which had bought it in 2010 for $312,500. The parcel has $90,419 in unpaid property taxes.
Mr. Reinbolt said Mr. Moore now wants to give the property to the city. Mr. Zervos said the property is open for illegal dumping because the owner recycled the fence.
The incident recalls a previous mayor who was known for personally enforcing the law.
In May, 1997, Mayor Carty Finkbeiner stopped a motorist at a traffic light for running a red light in front of him at Copland Avenue and the Anthony Wayne Trail, later issuing a citizen's complaint. The complaint was tossed by a judge who said it was an improper form.
Council later gave the mayor ticketing powers.
Mr. Collins was not available for comment. He left Toledo for New York on Wednesday to meet with bond-rating agencies and will return on Friday. Traveling with him are Ms. Ward, Law Director Adam Loukx, and Finance Director George Sarantou.
Champion was one of Toledo's most prominent automotive manufacturers. Started in 1907 by Robert and Frank Stranahan, the company pioneered spark-plug design for automobiles and airplanes. The last employees were moved out of the Upton plant in 2010.
Contact Tom Troy: tomtroy@theblade.com or 419--724-6058 or an Twitter @TomFTroy.
Guidelines: Please keep your comments smart and civil. Don't attack other readers personally, and keep your language decent. Comments that violate these standards, or our privacy statement or visitor's agreement, are subject to being removed and commenters are subject to being banned. To post comments, you must be a registered user on toledoblade.com. To find out more, please visit the FAQ.