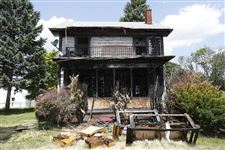 The fire at 921 Booth Ave. was one of 12 structure fires that took place over the July 4 weekend. Two have been ruled arsons so far, according to Toledo Fire Department spokesman Lt. Matthew Hertzfeld.
THE BLADE/DAVE ZAPOTOSKY
Enlarge | Buy This Image
It still smells like smoke at 921 Booth Ave., now more burnt wood than house.
The lawn is scattered with pieces of charred furniture. A Bible is open on the sidewalk, pages scorched, with broken glass above.
The damage was the work of an arsonist during the July 4 weekend. But almost a week later, 921 Booth still stands. Some neighbors said the structure represents the larger problem of an unresponsive city.
"I think it's a total loss," said neighbor William Robinson, motioning toward the property. "How long is it going to look like this now?"
Mr. Robinson lives two houses down from 921 Booth; his son has the house in the middle. He'd hoped to purchase 921 Booth, a vacant property, himself. The home, whose owner died a year ago, was to be auctioned in a Lucas County sheriff's sale.
Now all he he can do is wait for city authorities to tear down the property so that someone might access the land.
"My hands are tied," he said of his situation. "I don't know what to do."
The fire at 921 Booth was one of 12 structure fires that took place over the July 4 weekend. Two have been ruled arsons so far, said Lt. Matthew Hertzfeld, a Toledo Fire Department spokesman, and four are confirmed accidents.
The remaining six cases are still under investigation, including one fire at 723 S. Erie, which jumped to the adjacent home. That property, like 921 Booth and the other confirmed arson target, 1479 South Ave., was vacant, Lieutenant Hertzfeld said.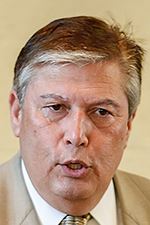 Zervos
THE BLADE
Enlarge | Buy This Image
Vacant building fires constitute only a small percentage of structure fires overall. But they are more likely to involve arson, according to a report from the National Fire Protection Association.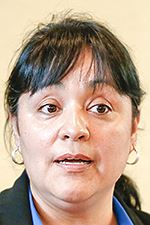 Geronimo
THE BLADE
Enlarge | Buy This Image
Structure fires in vacant buildings are also more likely to occur during July 4 weekend. Along with New Year's Eve and Halloween, July 4 and July 5 are peak days for those incidents nationwide.
Still, Lieutenant Hertzfeld cautioned against drawing too many conclusions from just a weekend's worth of data, noting that the dozen-home work load was "not uncommon" for the department. Spikes in calls for service don't necessarily indicate a trend, he said.
"Everybody wants to look for a pattern, but you really can't in this business," he said.
Meanwhile, who tears down a damaged house isn't a matter of black and white. It depends on ownership and insurance, Lieutenant Hertzfeld said.
And vacancies can complicate that process.
How quickly the city can demolish a property depends on a number of factors, said Chris Zervos, director of the Toledo Department of Inspection. For buildings in the worst shape — structurally unsound and about to collapse — an emergency order can be issued, and the building will be torn down within 24 hours.
But buildings with less-severe damage aren't expedited through the demolition pipeline, Mr. Zervos said.
Buildings that fail to meet the city's code of inspection can be either demolished or repaired, depending on their condition. In the case of vacancies, the city must locate a responsible party before proceeding with demolition. Issues of ownership can slow that process down.
If a property is owned by a corporation, a responsible individual needs to be identified before the city can proceed. If the property changes hands during the process, city officials must start over.
The city funds demolitions in concert with the Lucas County Land Bank, which aims to reduce blight by selling or demolishing certain vacant properties, including residential homes. The land bank can acquire, then sell or demolish, properties whose owners have defaulted on taxes for two years, Mr. Zervos said.
Cindy Geronimo, the vice president and director of community engagement for the lank bank, said a grant from 2012 allowed the land bank to demolish 840 structures in the last two years. A second recently awarded grant will fund 600 demolitions in the next two years.
Which buildings are demolished depends on a number of factors, Ms. Geronimo said, including "input from residents." The Toledo Survey, a new project of the land bank, is collecting information about vacancies throughout the city in an effort to map unoccupied properties and determine how each one would be best addressed.
For now, though, 921 Booth still stands, along with structures like it.
Contact Marissa Medansky at: mmedansky@theblade.com or 419-724-6368.
Guidelines: Please keep your comments smart and civil. Don't attack other readers personally, and keep your language decent. Comments that violate these standards, or our privacy statement or visitor's agreement, are subject to being removed and commenters are subject to being banned. To post comments, you must be a registered user on toledoblade.com. To find out more, please visit the FAQ.