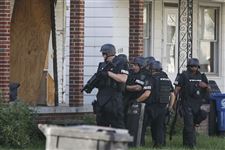 Police prepare to enter a vacant home to search for two suspects who fled into the dwelling at 1137 Earl St. in Toledo, where the K-9 officer was shot on Wednesday.
THE BLADE/LORI KING
Enlarge | Buy This Image
Updated Friday, Aug. 14, 2015 at 5:47 p.m.: Clarification: An earlier spelling of the Toledo Police K-9's name provided by the Wapakoneta training kennel, Von der Haus Gill German Shepherds, and the Toledo Police Department's original social media posts misspelled the dog's name.The K-9's name is Falko.
A Toledo Police K-9 was shot and killed and a man died Wednesday after the dog and its partner chased a pair of suspected car thieves into a vacant house in East Toledo.
A news conference is scheduled today to address the fatal shootings of the K-9 and the man who police say shot the dog. One suspect died and police apprehended the other after the dog was shot.
Chief George Kral at 3 p.m. will speak about the death of the suspect and Falko, a German shepherd killed in the line of duty at 1137 Earl St. in East Toledo. The news conference will take place at the Safety Building.
A police spokesman reached today declined to name the two men or discuss details of the shootings.
The police officer who handled the K-9 is Samantha Snowberger.
Late Wednesday night, police officers lined a path leading away from a vacant East Toledo house, hands on hearts, as Falko's body was wheeled out and taken away with a police escort.
The small crowd on the scene remained hushed at the sight, some removing their hats or taking cell phone video.
PHOTO GALLERY: Click here to view slideshow
Officer Snowberger placed her hand on the dog's body as her colleagues embraced her.
The incident began when police gave brief chase to what they believed was a stolen car around 5:30 p.m. at Varland Avenue and Woodville Road, police said.
The driver and another man ran into a house at 1137 Earl St., where police, including a K-9, followed. The driver shot the police dog and a human officer returned fire, hitting the suspect, before the officer left the house, Toledo Police Chief George Kral said.
The incident then became a barricade situation with the suspects inside the home. Police later took one man, the passenger, into custody.
The second suspect, whom police said died, remained in a crawl space in the house, late Wednesday night. It was unclear whether the man died from police gunfire or self-inflicted wounds.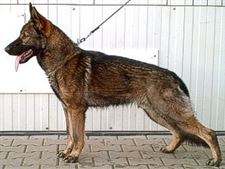 Falko
Authorities would not name the suspects in the case.
"We just lost a police officer," Chief Kral said. "That dog is a police officer. We're taking it hard, ... We have heavy hearts right now."
During flight from police, the suspects hit 18-year-old Jacob Hiltz's car, which was parked on Varland Avenue. in front of the family's home, he said.
Jeff Hiltz, Jacob's father, said his son's car was severely damaged, possibly totaled, and was pushed at least five feet.
"I don't know who is going to pay for it, but someone is going to pay for it," Mr. Hiltz said. "To do all this damage over a stolen car?"
After the shootings, neighbors were visibly rattled, talking about the incident, and calling for the house, long vacant, to be torn down. Some said it had been unoccupied for as long as 10 years.
Derek Schumm, who lives next door to the house, said that after the chase ended there he heard four gunshots from within the house and he heard officers yelling for the suspects to get down on their knees.
He was home with his two children during the incident, which left his 7-year-old daughter scared and crying, Mr. Schumm said.
POLICE DOG DEATHS
■ Ashtabula County Sheriff's Department K-9 Cero was shot by a suspect March 25, 2000.
■ South Bass Island K-9 Ajax was poisoned Sept. 7, 2001
■ Findlay Police Department K-9 Flip was shot Nov. 18, 2006.
■ Pittsburgh Police Department K-9 Ulf was shot by a suspect May 6, 2008.
■ Pittsburgh Police Department K-9 Rocco was stabbed by a suspect Jan. 28, 2011.
■ New Albany Police Department K-9 Bungee was hit by a vehicle May 25, 2011.
■ Vermilion Police Department K-9 Andy fell to his death while training June 26, 2012.
■ Mercer County Sheriff's Department K-9 Zak died of heat exhaustion in a patrol car Aug. 1, 2012
■ Montville Police Department K-9 Beny died of heat exhaustion in a police car Sept. 28, 2014
Witness Ryan Parks, 22, filmed the scene on his phone. Shortly after 5:30 p.m., he said he heard at least six shots and saw several officers start running.
For hours after the incident, dozens of neighbors and passers-by watched the scene unfold, packing in as close to the police tape as they could.
"This is way too close to home. It was crazy. I've never seen anything like this and we've been here for 16 years," said Tracy Heslet, who lives on Earl and expressed concerns about her children playing in the area.
Her daughter, Meghan Despones, 18, who also lives in the neighborhood, was upset about the K-9 being killed.
"The dog was just doing his job like a policeman would be doing his job, she said. "It's so sad."
Toledo police dispatchers gave a ceremonial last call for the dog over police radio around 9:30 p.m.
Mayor Paula Hicks-Hudson arrived at the scene several hours after the shooting to show support for officers there, she said.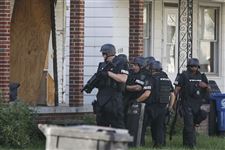 Police prepare to enter a vacant home to search for two suspects who fled into the dwelling at 1137 Earl St. in Toledo, where the K-9 officer was shot on Wednesday.
THE BLADE/LORI KING
Enlarge | Buy This Image
Later she called the dog's death a "terrible loss."
"This officer gave his life in service to our community," she said. "Our department is solid and they're really showing commitment to one another tonight."
The last time Toledo police fatally shot a person was in May, 2013, when an officer shot Thomas Bean after he pointed a gun at officers.
Wednesday's incident is believed to be the first line-of-duty death for a Toledo Police K-9. The last Toledo Police officer to be killed in the line of duty was Detective Keith Dressel, a 13-year veteran of the department, who died Feb. 21, 2007.
The National Sheriff's Association has written a protocol that departments should follow for burying a K-9. Animals who are killed in the line of duty deserve special honors, the association's protocol suggests. In all cases, the animal's handler should be consulted on arrangements.
Honors for a dead K-9 should be comparable to those for their human counterparts, the association says.
The animal's funeral may include an honor guard, pall bearers, and 21-gun salutes, the association said. The animals should be cremated or buried to be sure their remains are treated respectfully.
In 2014, a funeral procession in Pittsburgh for slain police dog Rocco included bagpipers and full police honors.
Police said the funeral was meant to show that sometimes an officer's best friend is "just a dog." In 2015, a statue honoring police dogs killed in the line of duty was added to the Law Enforcement Memorial near Heinz Field in Pittsburgh.
Blade staff writer Mark Zaborney contributed to this report.
Contact Lauren Lindstrom at llindstrom@theblade.com, 419-724-6154, or on Twitter @lelindstrom.
Guidelines: Please keep your comments smart and civil. Don't attack other readers personally, and keep your language decent. Comments that violate these standards, or our privacy statement or visitor's agreement, are subject to being removed and commenters are subject to being banned. To post comments, you must be a registered user on toledoblade.com. To find out more, please visit the FAQ.