A Campbell Street plant that housed lithium was in compliance with building regulations before a large fire broke out there.
The blaze at Lithium Innovations, 1303 Campbell St., started around 2:45 p.m. Thursday, causing authorities to initially issue a voluntary evacuation for five square blocks around the plant before telling residents it was safe to return. No one was injured.
A majority of the business' lithium is stored about 100 feet away from the main building, Ford Cauffiel, the business owner, said on Thursday.
Lithium is a hazardous material and caustic depending on its concentration. Firefighters initially believed they could not use water on the fire, because water and lithium produce a highly flammable hydrogen gas. They later discovered there was less lithium in the structure than suspected.
In February, 2010, a fire prevention inspector had found large quantities of raw lithium.
"Those large quantities were not supposed to be stored in that building," said fire spokesman Pvt. Sterling Rahe. "So immediately they were told to remove that. Part of the process was to remove those quantities and store it in a remote site."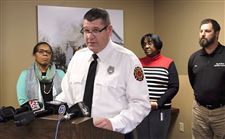 Toledo fire spokesman Sterling Rahe speaks at a news conference. Behind him are Mayor Paula Hicks-Hudson, left, and Councilman Yvonne Harper.
THE BLADE/LORI KING
Enlarge | Buy This Image
The owner complied with the action plan, officials said Friday, and the building was found to be in compliance with building and fire codes in November, 2011.
RELATED ARTICLE: Toledo Police use new drone to assist fire crews
Mr. Cauffiel could not be reached for comment Friday.
"The biggest take away from this is that yesterday's incident could have been much worse," Private Rahe said.
"I can't emphasize enough that this is a great example of how all of our departments have come together and will work together for the betterment of the citizens," he added.
Around 6:20 p.m. Thursday, firefighters began cautiously dousing the fire with water from outside the building.
Members of the U.S. Environmental Protection Agency responded to the scene on Thursday to assist with air monitoring, among other areas. Officials said their main concern was smoke exposure to residents, so the agency monitored for issues by using real-time instruments to test for several components that could have been present in the smoke.
City officials continue to monitor the sewers.
Chief Luis Santiago said Friday fire crews would remain on scene until a further determination is made, and he commended firefighters for their work.
"We had some decisions to make, tough decisions. But when it came for the safety of our people, it was really an easy decision," he said.
Firefighters had not entered the building as of Friday.
A cause of the fire has not been determined. The fire began in a corner of the plant and moved up to the roof, Chief Santiago said.
Much of the black, billowing smoke was from the burning roof, he added.
Firefighters faced cold weather while standing watch over the building, with Friday's high being 30 degrees, according to the National Weather Service.
"We're trying to get them out of the cold and get something to eat," Private Rahe said. "We'll keep that process going until the incident is done."
Contact Allison Reamer at: areamer@theblade.com, 419-724-6506, or on Twitter @AllisonRBlade.
Guidelines: Please keep your comments smart and civil. Don't attack other readers personally, and keep your language decent. Comments that violate these standards, or our privacy statement or visitor's agreement, are subject to being removed and commenters are subject to being banned. To post comments, you must be a registered user on toledoblade.com. To find out more, please visit the FAQ.