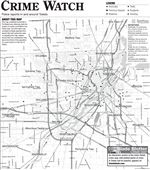 THE BLADE
Enlarge | Buy This Image
View The Blade's interactive crime map
Bedford Township
Theft
Mike Mihalec, lawn tractor from property in 10100 block of Crabb.
Berkey
Burglary
Jan Shull, tools from garage in 13000 block of Sylvania Metamora.
Ida Township
Theft
Pamela Key, handgun from residence in 100 block of East Rauch.
Maumee
Theft
Susan King, decorative outdoor flag from property in 1700 block of Ashfield.
Monclova Township
Burglary
Mark Conway, television from residence in 4600 block of Lakeside.
Northwood
Thefts
Midwest Environmental Control Inc, tools from building in 3700 block of Williston.
Kimberly Morgan, clothes from laundromat in 300 block of East Andrus.
Michael Sepulveda, medicine from vehicle in 300 block of Harding.
Danae Overton, smart phone from hotel in 2600 block of Lauren.
Oregon
Thefts
Earl Wolff, cash from 3300 block of Brown.
Patrick Gardull, vehicle from 2900 block of Navarre.
Debrae Estep, medicines from residence in 3100 block of Navarre.
Pamela Ferrara, wallet with contents from vehicle in 1700 block of South Wheeling.
Walmart, cash from register at store in 3700 block of Navarre.
Jeannette Beeler, vehicle trailer from property in 4600 block of Seaman.
Nathan Gartee, ladder from property in 1100 block of Laura.
Carl Ovall, hood from vehicle in 2700 block of Pickle.
Perrysburg
Thefts
Mark Hardy, cash from vehicle in 700 block of West Boundary.
TMT Equipment Sales, equipment from business in 700 block of West Boundary.
Nancy Kelley, unspecified items from residence in 25800 block of West River.
Perrysburg Township
Burglary
Carlos Oviedo, nothing reported stolen from residence in 12400 block of Fort Meigs.
Theft
Kristine Sievert, package from residence in 9600 block of Mandell.
Spencer Township
Felonious Assault
Jayde Roaden, assaulted at residence in 9200 block of Old State Line.
Theft
Julie Newell, medicine from residence in 1500 block of South Berkey Southern.
Springfield Township
Robbery
Andrew Creighton, threatened with knife and robbed of backpack with contents on street at Centennial and Dorr.
Burglaries
Angel Lerma, television from residence in 6500 block of Hill.
David Buchman, handgun, television, video game system with games and accessories, and Blu-ray movies from residence in 7200 block of Nightingale.
Hiab USA, forklift propane cylinders from fenced property in 10000 block of Airport.
Thefts
Lee Herbert, cash and handgun from residence in 9700 block of Old State Line.
Salvatore Seragusa, handgun from residence in 100 block of Danesmoor.
Sylvania Township
Burglary
Ellen Fendley, cash from vehicle in garage in 5200 block of Bilby.
Theft
Matthew Delman, battery pack from vehicle in 6800 block of Pine Creek.
University of Toledo
Thefts
William Danklefsen, bicycle from 1700 block of West Rocket.
Amber Monroe, cash and bottles of lotion from dorm in 1700 block of West Rocket.
John Regan, briefcase and laptop computer with accessories from building in 2000 block of North Towerview.
Whiteford Township
Burglary
James Arman, cash from residence in 10000 block of Whiteford Center.
Guidelines: Please keep your comments smart and civil. Don't attack other readers personally, and keep your language decent. Comments that violate these standards, or our privacy statement or visitor's agreement, are subject to being removed and commenters are subject to being banned. To post comments, you must be a registered user on toledoblade.com. To find out more, please visit the FAQ.