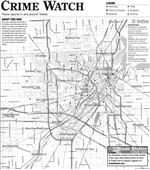 THE BLADE
Enlarge | Buy This Image
View The Blade's interactive crime map
Holland
Theft
Lindsay Chaney, smart phone from school in 1400 block of McCord.
Jerusalem Township
Burglary
Shaun McChesney, fuel tanks and fuel can from garage in 400 block of South Howard.
Theft
Jeffrey Schmitz, aluminum vehicle trailer from 8300 block of Arquette.
Maumee
Burglary
Gardner Corp., unspecified items from toolbox in construction trailer in 1400 block of Arrowhead.
Thefts
Dustin Werner, laptop computer from vehicle in 300 block of Wrexham.
Timothy Lawrence, light bar from vehicle in 500 block of East Indiana.
Monclova Township
Burglaries
Josh Doyle, televisions from residence under construction off Monclova near Coder.
Briane Bozman and Josh Doyle, heavy-duty radio from residence under construction off Monclova near Coder.
Northwood
Felonious Assault
Austin Hughes, James Caulton, JJ Wills, Haley Manning, Trinity Morris, and Jason Cann, assaulted on street in 1900 block of Tracy.
Burglary
Hirzel Canning Co., no loss reported from business in 6700 block of Wales.
Theft
Brandon Hartford-Daly, wallet with contents from counter at gas station in 2400 block of Oregon.
Perrysburg
Burglary
Terri Feasel, cases of beer from garage in 400 block of Nora.
Theft
Kalyn Tate, unspecified items from 300 block of Locust.
Perrysburg Township
Thefts
Cara Gorman, gift cards and boot warmer from residence in 28800 block of Oregon.
Dawan Jackson, license plate from vehicle in 10400 block of Fremont Pike.
Springfield Township
Burglaries
Barbara Jefferson and Alexis Alexander, car keys from residence in 6900 block of Oakfield
Patty Chanthasit, jacket from residence in 6200 block of Garden.
Theft
Janelle Odoms, music player, dolls, and computer games from vehicle in 900 block of Hialea.
Sylvania
Burglary
Sanja Katic Jennings, jewelry and laptop computers from residence in 7800 block of Laurel Glen.
Thefts
Jeff Barker, duffel bag, medicine, clothes, and pair of shoes from locker at athletic facility in 6700 block of West Sylvania.
Jolyn Gilstorf, cash from purse in locker room at hospital in 5200 block of West Alexis.
Sylvania Township
Burglaries
Jeanna Meisner, jewelry and Christmas gifts from residence in 8500 block of Central.
Kelly Corcoran, jewelry from residence in 4800 block of Vineyard.
Kyoung Ro, nothing reported stolen from residence in 4700 block of Sutton.
Theft
Anne Bradley, jewelry from residence in 8800 block of Linden Lake.
Guidelines: Please keep your comments smart and civil. Don't attack other readers personally, and keep your language decent. Comments that violate these standards, or our privacy statement or visitor's agreement, are subject to being removed and commenters are subject to being banned. To post comments, you must be a registered user on toledoblade.com. To find out more, please visit the FAQ.