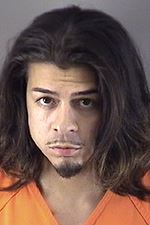 Andres Mendez
BOWLING GREEN — A Toledo man caught transporting 6 kilograms of fentanyl through Wood County was sentenced Tuesday to five years in prison.
Andres Mendez, 25, of the 600 block of Tremainsville Road also was fined $10,000 by Wood County Common Pleas Judge Alan Mayberry. His driver's license was suspended for five years.
Mendez pleaded guilty in October to aggravated trafficking in drugs. He was stopped May 16 on I-75 near North Baltimore after agents with the U.S. Drug Enforcement Administration saw Ricardo Rivera load a black duffel bag into the trunk of the car Mendez was driving and followed the vehicle from South Toledo.
Rivera, 41, pleaded guilty Sept. 28 in U.S. District Court to possession with intent to distribute fentanyl.
Guidelines: Please keep your comments smart and civil. Don't attack other readers personally, and keep your language decent. Comments that violate these standards, or our privacy statement or visitor's agreement, are subject to being removed and commenters are subject to being banned. To post comments, you must be a registered user on toledoblade.com. To find out more, please visit the FAQ.