A judge set bond at $100,000 Monday for a Swanton man accused of stealing a woman's car and running her over as she tried to stop him.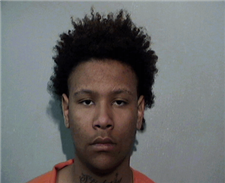 Fane
Duane Fane, 18, is charged with aggravated robbery, a first-degree felony. He was arrested by Toledo police and booked into the Lucas County jail Sunday, according to records.
He was arraigned Monday in Toledo Municipal Court, where he was also ordered to have no contact with the victim.
Mr. Fane is accused of stealing Michelle Thomas' car, which was running unattended, from a residence in the 3100 block of Glencairn Avenue about 6:45 p.m. Jan. 15, police said.
When Ms. Thomas walked outside, someone started to drive her car away. When she tried to open the driver's door, the robber continued driving and ran her over, dragging her several feet, according to an affidavit filed in Toledo Municipal Court. Ms. Thomas had a leg injury that the Toledo Fire Department treated at the scene, according to police.
The vehicle was later recovered at a gas station at South Avenue and Spencer Street.
Mr. Fane is due back in court Monday for a preliminary hearing.
Guidelines: Please keep your comments smart and civil. Don't attack other readers personally, and keep your language decent. Comments that violate these standards, or our privacy statement or visitor's agreement, are subject to being removed and commenters are subject to being banned. To post comments, you must be a registered user on toledoblade.com. To find out more, please visit the FAQ.