Toledo police Chief George Kral presented police badges to the city's 38 newest officers Friday, telling them to be brave and humble.
"Be prepared to put yourselves in harm's way in the service of the citizens," Chief Kral said. "Be humble and make sure your heart is in the right place."
He spoke at the 64th Toledo Police Academy graduation ceremony Friday at Bowsher High School's main auditorium in South Toledo.
Said Officer Ashley Paszczykowski, 33, of the graduating class, "I am excited, nervous, ready for the next chapter in my career — the one-year probation program."
She said she was the second police officer in her family, adding that her cousin, Toledo police Officer Gavin Paszczykowski, graduated with the previous class.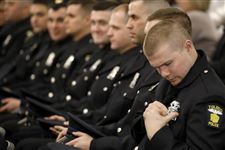 New Toledo Police Officer Jeremy Wright pins his badge on his uniform during the Graduation Ceremony for the Toledo Police Department's 64th Academy Class Friday at Bowsher High School in Toledo. Hundreds of family and friends turned out celebrate the swearing-in of 39 new officers. THE BLADE/KATIE RAUSCH
The Blade/Katie Rausch
Enlarge | Buy This Image
PHOTO GALLERY: Toledo Police Department graduation
This class, which began on July 10, consists of 27 white men, two black men, five Hispanic men, three white women, and a black woman.
The officers will next be on probation for a year, including four months of field training with a veteran officer. The graduates and several hundred family and friends filled the auditorium to capacity.
Mike Gregory, 35, of Toledo, hurried up, almost running across the hallway and toward the auditorium doors a minute before the ceremony began at 7 p.m.
"I am here for Jacoby Whitacre, my best friend I've known since high school, who's graduating," Mr. Gregory said. "It's a lifelong dream of his, being a police officer. I wish him the best of luck and that he stays safe."
With these new graduates, there are 618 sworn Toledo police officers, according to police spokesman Sgt. Kevan Toney.
The next Toledo Police Basic Police Officer Academy Class is scheduled to begin July 27. The application and initial testing closed Dec. 31, with the Toledo Civil Service Commission certifying the 2018 Police Officer Eligibility list on Jan. 24.
Mayor Wade Kapszukiewicz committed during his campaign last fall to hire 40 new police officers each year.
Also graduating with this class Friday was Toledo firefighter and paramedic James Trevino, 37, a Hispanic man, who will be assigned to the police and fire departments' combined fire investigation unit.
Contact Mike Sigov at sigov@theblade.com, 419-724-6089, or on Twitter @mikesigovblade.
Guidelines: Please keep your comments smart and civil. Don't attack other readers personally, and keep your language decent. Comments that violate these standards, or our privacy statement or visitor's agreement, are subject to being removed and commenters are subject to being banned. To post comments, you must be a registered user on toledoblade.com. To find out more, please visit the FAQ.