Neighbors of a proposed Lucas County jail site in North Toledo expressed concerns Wednesday about the plan, primarily regarding safety and home property values.
County officials presented plans for a new jail near Detroit Avenue and Alexis Road to about 150 people during an evening open house discussion at the EMS Training Center. On-hand displays illustrated possible design and the county's criminal justice reform work.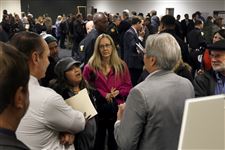 Vangie Steuer-Snodgrass, center left, and her neighbors express their frustration over the location of a proposed new county jail to Lucas County Commissioner Pete Gerken.
The Blade/Katie Rausch
Enlarge | Buy This Image
Many attendees voiced skepticism regarding the location.
Dave Stasko, 61, has lived on Warrington Road for about 30 years. His house is less than a mile from the proposed location, and he said he has no doubt the jail would decrease his property's value.
"My house is worth $70,000. Who's going to come in here and buy it for $70,000 when there's a jail down the street? Nobody," he said.
Neighbor Paul Kwapich, 63, said he too is concerned about property values.
"This is farm land. To build another building on green space, I'm against," he said.
Commissioner Tina Skeldon Wozniak described the event as tremendous sharing about the location.
"It is very hard to place a jail in a jurisdiction, both here in Lucas County and across the country," she said. "We have to do everything we can to address the concerns. Yet, we need to build a facility, and we need to find solutions."
Officials also cited research showing property values for residences outside a jail's line of sight are not affected. They also pointed to increased law-enforcement presence in neighborhoods near jails.
Vangie Steuer-Snodgrass, 54, has lived for 15 years near this site. Her online petition, "NO NEW JAIL in our children's neighborhood," has so far gathered about 500 signatures.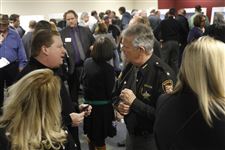 Jay Merritt, left, talks with Lucas County Sheriff John Tharp during an open information session on a proposed new Lucas County Jail Wednesday at the Lucas County EMS building in Toledo.
The Blade/Katie Rausch
Enlarge | Buy This Image
"This is a family-oriented, residential area, and we want to keep it that way," Ms. Steuer-Snodgrass said.
Ms. Steuer-Snodgrass said it is too close to schools including Regina Coeli Catholic School, Bennett Venture Academy, and Greenwood Elementary School.
"We're just middle-class people trying to make a living here and I know when the jail goes up it will lower our property values," Ms. Steuer-Snodgrass said.
Commissioners recently unveiled a proposed $180 million project – $155 million toward the jail and $25 million for a behavioral health solutions center – to replace the aging downtown jail.
Voters are expected in November to decide an accompanying levy for funding. It's estimated to last 37 years and cost about $4 per month for the owner of a home valued at $100,000. If approved, officials hope to break ground by early next year.
Contact Ryan Dunn at rdunn@theblade.com, 419-724-6095, or on Twitter @RDunnBlade.
Guidelines: Please keep your comments smart and civil. Don't attack other readers personally, and keep your language decent. Comments that violate these standards, or our privacy statement or visitor's agreement, are subject to being removed and commenters are subject to being banned. To post comments, you must be a registered user on toledoblade.com. To find out more, please visit the FAQ.