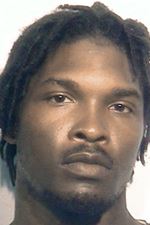 Lonzo Rivers
Toledo police are asking the public for help in finding a man charged in a November homicide.
On Nov. 20, officers responded to a report of a person shot at South Avenue and Spencer Street.
Dakota Rogers, 25, was found in a vehicle with at least one gunshot wound. He was taken to the University of Toledo Medical Center, formerly the Medical College of Ohio Hospital, where he later died.
On Nov. 28, a murder warrant was issued for Lonzo Rivers, 32.
Police are looking for any additional information on this case or information regarding the location of Mr. Rivers.
Anyone with information is asked to contact the Crime Stopper program. Callers may remain anonymous and could be eligible for a reward.
Guidelines: Please keep your comments smart and civil. Don't attack other readers personally, and keep your language decent. Comments that violate these standards, or our privacy statement or visitor's agreement, are subject to being removed and commenters are subject to being banned. To post comments, you must be a registered user on toledoblade.com. To find out more, please visit the FAQ.