Lamar Richardson used to say nobody dreams anymore. But Mr. Richardson dreamed big.
He wanted to start an auto repair business. When he was a child, he took apart toy cars and put them back together. After graduating from Troy High School, two hours south of Toledo, he transferred an engine into his car, and worked for a year selling and washing cars at a Troy auto shop, family members said.
RELATED: Blade apologizes: 'Mistakes were made'
From left to right: C.J. Kulwicki, 23, cousin, Alfreada Radford Tucker, 67, grandmother, and Tre'Von Richardson, 24, brother, console each other as they talk about their family member, Lamar Richardson.
THE BLADE/SAMANTHA MADAR
Enlarge | Buy This Image
That dream was cut short when Mr. Richardson, 25, was shot and killed Friday by a Toledo police officer at Hudson and Lagrange Streets in North Toledo.
"He was my treasure child," said Alfreada Radford Tucker, 67, Mr. Richardson's grandmother. Ms. Tucker's voice grew hoarse as she reflected on her grandson's life, sitting on the big red couch in the living room of the Toledo home where she has lived for the last 27 years.
"I'm still waiting for my grandson to come through that door."
RELATED: North Toledo neighborhood calm following Friday's fatal shooting | Mayor, community leaders call for unity after officer-involved shooting
Officers fired at Mr. Richardson after he produced a weapon, Lt. Kevan Toney, a police spokesman, said Friday. He was identified as a person of interest in multiple convenience store robberies.
Family members described Mr. Richardson as a kindhearted person who, prior to the shooting that day, ran into a family member at a store and gave her candy to take home for her children. He loved to play basketball and cook — especially fried chicken and potatoes. He was "no stranger to God," Ms. Tucker said; he attended Christian Community Church in Toledo not long ago, and his favorite lesson from scripture was "paying homage."
They called him "La."
Mr. Richardson and his twin younger brothers, Tre'Von and Cle'Von, both 24, had a difficult childhood, the family said. At age 12, after his mother had passed away, a judge put the three boys in the custody of their father.
"He had serious mental health issues," Tre'Von said about his brother on Saturday. "[Police are] not saying that. They made it seem like he wasn't educated, like he didn't graduate."
During the five years the boys lived with their father, Mr. Richardson developed bipolar disorder, post-traumatic stress disorder, and oppositional defiant disorder, said Ms. Tucker, who has worked with the National Alliance on Mental Illness. She said she never saw her three grandsons in the time they spent with their father.
Mr. Richardson spent time at a mental health services center in Toledo, Tre'Von said. He was taking risperdal — an antipsychotic medication — but later switched off his medication and went without it for "three or four months."
For the past three years, Mr. Richardson slept in trucks, buildings, and basements, and sometimes at family members' homes, Ms. Tucker said. Tre'Von said he knew Mr. Richardson needed his medication in the months leading up to the shooting, and often found it difficult to sleep at all.
From left to right: C.J. Kulwicki, 23, cousin, Alfreada Radford Tucker, 67, grandmother, and Tre'Von Richardson, 24, brother, console each other as they talk about their family member, Lamar Richardson.
THE BLADE/SAMANTHA MADAR
Enlarge | Buy This Image
"He just didn't want to bring his family into what he's got going on," said his cousin, C.J. Kulwicki, 23.
Ms. Tucker was upstairs in her home early Friday evening when her daughter-in-law ran upstairs and told her Mr. Richardson had been shot. She said she ran to the scene, about a mile away, and asked to see her grandson as he was being wrapped in a body bag on a gurney.
"I saw his head," she said. "There was a big bullet hole on the side of his temple. I was not allowed anything else."
The minute-and-a-half-long dash cam video of the shooting, released by Toledo Police on Friday, disturbed Ms. Tucker. She said she once worked for the Brownsville, Tenn. police department, used to hand out Halloween candy to officers in Toledo, and added she has reached out to local police for help in the past.
She said she found Friday's shooting "disappointing."
"I saw him run. I saw him stop," she said. "This was a very troubled, broken-spirited young man."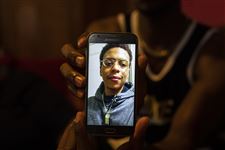 Tre'Von Richardson, 24, shows a recent photo of his brother Lamar Richardson Toledo on Saturday, July 28, 2018.
THE BLADE/SAMANTHA MADAR
Enlarge | Buy This Image
Tre'Von said he believes police fired more shots that necessary, and wished Mr. Richardson had been indicted instead. The department estimated Friday that five shots were fired, but could not confirm that number.
Dr. Maneesha Pandey, a Lucas County deputy coroner, said Saturday Mr. Richardson was shot three times and died of a gunshot wound to the left front of his head. He also had bullet wounds to his forearm and his right foot.
"This is my big brother," Tre'Von said. "I just had talked to him. I just got to shed some light on this."
Gerald Rose, an Atlanta-based activist who is working with Mr. Richardson's family, said he plans to hold a press conference about the shooting Aug. 10 in Toledo.
Toledo Police could not immediately be reached for comment Saturday evening.
Contact Mark Rosenberg at mrosenberg@theblade.com, 419-724-6194, or on Twitter @markrosenberg32.

Guidelines: Please keep your comments smart and civil. Don't attack other readers personally, and keep your language decent. Comments that violate these standards, or our privacy statement or visitor's agreement, are subject to being removed and commenters are subject to being banned. To post comments, you must be a registered user on toledoblade.com. To find out more, please visit the FAQ.