An Atlanta-based anti-violence advocate who grew up in Toledo urged greater city unity following the police shooting of an armed man fleeing police.
Gerald Rose, who founded the nonprofit New Order National Human Rights Organization, held a news conference Friday in front of the Toledo police downtown Safety Building.
Mr. Rose said he travels much of the country and sees a large amount of division in Toledo. There should instead be a shared goal of saving young people.
"Unity, work together. It's all about unity," Mr. Rose said.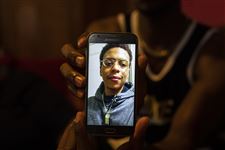 In this file photo, Tre'Von Richardson, 24, shows a recent photo of his brother Lamar Richardson.
THE BLADE/SAMANTHA MADAR
Enlarge | Buy This Image
Police are investigating the July 27 incident in North Toledo in which an officer shot and killed Lamar Richardson, 25, of Toledo. Authorities said he was a "person of interest" in several armed robberies, and displayed a 9-millimeter pistol during a pursuit into the neighborhood.
A large crowd gathered and demanded answers from police at the scene on Hudson Street near Lagrange Street. Mayor Wade Kapszukiewicz and police Chief George Kral quickly released camera footage from the shooting.
Mr. Rose met with both the chief and mayor Friday, describing the conversations as productive. He has also served as a spokesman for Mr. Richardson's family.
"It's put me in tears when I talk to his family," Mr. Rose said.
Mr. Rose wants to ensure an ongoing conversation between police and city residents, Chief Kral said.
"Every time I've met with Mr. Rose, it's been professional. It's been cordial. He's here because he cares about the city of Toledo," Chief Kral said.
Investigative findings will likely go to the Lucas County Prosecutor's Office for review in the next couple of weeks, a department spokesman said Friday.
Contact Ryan Dunn at rdunn@theblade.com, 419-724-6095, or on Twitter @RDunnBlade.
Guidelines: Please keep your comments smart and civil. Don't attack other readers personally, and keep your language decent. Comments that violate these standards, or our privacy statement or visitor's agreement, are subject to being removed and commenters are subject to being banned. To post comments, you must be a registered user on toledoblade.com. To find out more, please visit the FAQ.