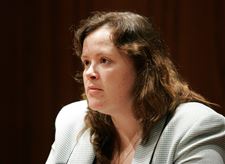 Toledo City Councilman Lindsay Webb.
The Blade/Dave Zapotosky
Enlarge | Buy This Image
The Bell administration will seek a vote Tuesday on its back-on-track deal to sell 69 acres of the Marina District to the Chinese investment firm Dashing Pacific Group Ltd.
But the dramatic events that brought the Marina District deal back to life did not assuage the misgivings among some council members Thursday.
"This just seems a little too well-orchestrated -- almost straight out of a Hollywood movie," said Councilman Lindsay Webb, one of those objecting to the hurried pace of approval.
Stephen Herwat, deputy mayor for operations, said the goal is to bring the ordinance authorizing the mayor to sell a portion of the Marina District to Dashing Pacific up for a vote of council on Tuesday. "That would be the administration's desire," he said.
Council's economic development committee also has scheduled a hearing on the ordinance for 9:30 a.m. Tuesday, said committee chairman Rob Ludeman.
Mayor Mike Bell announced the deal to sell the vacant East Toledo property to Dashing Pacific on April 8, but then asked to withdraw the ordinance a week later because the investors were reassessing their offer.
Instead, council kept the ordinance on its agenda.
Thursday Mr. Bell announced from China that his goal of reviving the deal was successful.
Toledo City Councilman Joe McNamara.
The Blade/Lisa Dutton
Enlarge | Buy This Image
Asked why the investors have put their offer back on the table, Mr. Ludeman said, "I think that the mayor's trip has been very successful and productive," referring to Mayor Bell's nine-day economic trip that ended Thursday. "I think that they feel they have a majority of council that's willing to back their investment with our votes."
He declined to predict the outcome.
"I don't know what to anticipate," Mr. Ludeman said.
However, he said the purchase offer is for more than the $50,000-per-acre appraisal received by the city. And he said there is no question that Dashing Pacific will use unionized workers in the proposed $200 million development -- a key concern of councilmen who are withholding support.
"I think they have the ability to move forward quickly with a pretty nice development on that side of the river," Mr. Ludeman said. "I think a project of that magnitude would have to use local labor force because the contractors that would be able to do that are all union shops."
He said the urgency of a vote is because Dashing Pacific Chairman Yuan Xiaohong plans to be in Toledo during the second week of July and the administration's goal is to close on the real estate deal at that time.
Read More from the mayor's trip at toledoblade.com/ChinaConnection.
READ MORE: Toledo delegation wraps up 9-day overseas visit.
Council President Wilma Brown said she didn't know if there are enough votes for passage. She said a vote Tuesday is unlikely.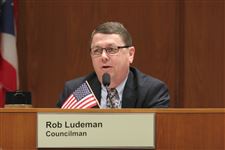 Toledo City Councilman Rob Ludeman.
The Blade/Lisa Dutton
Enlarge | Buy This Image
"I doubt if they're going to be able to vote on it Tuesday because they're going to be asking some questions and they're going to try to bring in the union presentation. I would vote on it Tuesday, but I have some others that don't think like me," Ms. Brown said. She estimated the number of no votes at three or four.
Councilman Joe McNamara said the two Dashing Pacific investors, Ms. Yuan and Wu Kin Hung, have become members of the Toledo community through their acquisition of the Docks restaurant project in February and should have a relationship with city council independent of their relationship with the mayor, but they don't.
"I would like to know the development plan, pure and simple," Mr. McNamara said. "I'm disappointed that relationship hasn't been fostered between the Chinese investors and City Council."
He predicted there would be at least six votes in support, but he was not sure of a seventh. A 6-6 tie could be broken in favor of the deal by Mayor Bell. But if a councilman who is opposed to the deal is absent during the vote, then the proposal would fail because seven votes are required for an ordinance to pass.
As vice chairman of the economic development committee, Mr. McNamara said he wants to give two other suitors for the Marina District property a chance to be heard.
The Northwestern Ohio Building and Construction Trades Council, an association of labor unions, offered to buy the entire Marina District for $3,800,001 -- a dollar more than Dashing Pacific's offer for about 69 acres. Since then Dashing Pacific has asked for an option on additional Marina District acreage.
And the "Toledo Community Investment Corporation," represented by Thomas Sheehan, head of Sheehan Financial Advisors LLC, of Springfield Township, offered $7.5 million for 128 acres at the Marina District. In a memo to city council on Wednesday, Mr. Sheehan announced he would publicize his plans for the Marina District development Friday, though he had yet to disclose a time and place.
John Schlagheck, executive secretary and business manager of the building trades council, said he wants assurances in writing that local construction unions will build the project, and if the investors refuse to put the assurances in writing then he remains suspicious.
Toledo City Councilman Wilma Brown.
The Blade/Dave Zapotosky
Enlarge | Buy This Image
"Nobody knows any of their plans. They won't tell anybody. They won't tell the council. How do we know what's good for Toledo," Mr. Schlagheck said. "What I think is good for Toledo is if local contractors and local labor build that project."
City Councilman D. Michael Collins, who had raised several objections to the proposed sale, said his concerns remain, including the lack of communication with the public as to the investors' plans for the project and the lack of a commitment to hire local firms and workers.
"My goal here is to have them come to the table and say the construction and so forth will bring local employment. I would be more inclined to go along with it, yes," Mr. Collins said.
Mike Craig, councilman for District 3 that includes the Marina District, said he's ready to vote to approve the sale immediately. He said he believes the developers intend to use local and union contractors, and noted the presence of an executive of Rudolph/Libbe Inc. construction company on the mayor's trip to China.
Scott Libbe, executive vice president of the Lake Township firm, was among the local businessmen who joined the trade delegation.
"I'm going to go out on a limb and say they've already chosen their contractor, and that's a union contractor," Mr. Craig said. "I'm excited. I've spent the last five years cheerleading for this and it needs to be done."
Councilman Webb said the same doubts remain since before the mayor's high-profile tour of Chinese cities.
"These questions -- integration of the neighborhood, access to the waterfront, the design, the use of local labor -- are all highly relevant and questions that must be answered. Unless Dashing Pacific comes in and lays out their plans and answers these reasonable questions, I'm not sure I can support the deal," Ms. Webb said.
Contract Tom Troy at: tomtroy@theblade.com or 419-724-6058.
Guidelines: Please keep your comments smart and civil. Don't attack other readers personally, and keep your language decent. Comments that violate these standards, or our privacy statement or visitor's agreement, are subject to being removed and commenters are subject to being banned. To post comments, you must be a registered user on toledoblade.com. To find out more, please visit the FAQ.