Democrat Tina Skeldon Wozniak, left, faces Republican Jonathan Anderson for county commissioner.
THE BLADE
Enlarge | Buy This Image
Republicans filed Wednesday to run for five of nine Lucas County row office races on the ballot in 2012, leaving Democrats unopposed by Republicans for the offices of sheriff, prosecutor, coroner, and engineer. Wednesday was the filing deadline for the March 6 primary.
The Republican slate for county office includes Toledo City Councilman George Sarantou who decided only Wednesday to run for the open seat of county recorder rather than for county commissioner against incumbent Democrat Peter Gerken.
"I carefully considered the office of county commissioner as well as recorder and I just felt at this time, based on conversations with many people from many walks of life, I would be a very good candidate for Lucas County recorder," Mr. Sarantou said. He twice ran unsuccessfully for Lucas County commissioner, in 2006 and 2010. The current recorder, Democrat Jeanine Perry, has decided not to seek re-election.
Three Democrats filed petitions Wednesday for the recorder seat: Toledo City Councilman Phillip Copeland, Oregon City Councilman James Seaman, and Sylvania Township resident Kevin Eff, a lawyer.
A fourth possible Democratic candidate, Lisa Sobecki, opted not to run because she would have had to quit her job with the county Department of Job & Family Services to do so. Ms. Sobecki said Wednesday she had begun collecting signatures on her petitions but quit when she learned it was prohibited by the Ohio administrative code, which governs state employees, to even collect signatures. She said she did not know whether the violation would cost her her job.
"I tried to be honest and law-abiding and to follow the intent of the law," she said.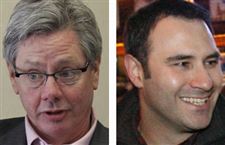 Democrat Pete Gerken, left, faces Republican Constantine Stamos, right, for county commissioner.
The Blade
Enlarge | Buy This Image
Republican Jonathan Anderson, vice chairman of the Lucas County GOP central committee, filed to run against Democratic Commissioner Tina Skeldon Wozniak. Republican Constantine Stamos, an unsuccessful 2009 Toledo City Council candidate, filed to run against Mr. Gerken.
Republican Norm Witzler filed against Lucas County Treasurer Wade Kapszukiewicz. In 2010, Mr. Witzler, a former Waterville councilman, started as the Republican candidate for county auditor against Democrat Anita Lopez and then withdrew to allow the party to substitute Gina Kaczala as the Republican nominee. Ms. Kaczala lost the election.
Hans Schnapp, an unsuccessful 2010 candidate for Toledo City Council, filed to run against incumbent Democrat Bernie Quilter for clerk of courts.
Two Democrats filed for the open seat of sheriff to replace Democrat James Telb, who is not seeking re-election. They are John Tharp, a major in the sheriff's department, of Monclova Township, and Raymond Collins, a retired deputy sheriff, of Swanton Township.
County Prosecutor Julia Bates, Engineer Keith Earley, and Coroner James Patrick, Democrats, will run unopposed.
Two Republicans filed for an open seat on the Ohio 6th District Court of Appeals: Lucas County Common Pleas Judge James Jensen and Toledo Municipal Judge Robert Christiansen. No Democrats filed. Incumbent Judge Peter Handwork, a Republican, is barred by his age from seeking another term.
One common pleas judge on the 2012 ballot will have a contest. Democrat Judge Myron Duhart, appointed last year to replace Democrat Judge Charles Doneghy, who resigned, will be opposed by Republican lawyer Kenneth Phillips.
Incumbent Common Pleas judges Stacy Cook (D), Gary Cook (D), James Bates (D), and Linda Jennings (R), Juvenile Court Judge Connie Zemmelman (D), and Domestic Relations Judge David Lewandowski (R) filed for re-election with no opposition.
Lucas County Republican chairman Jon Stainbrook said he was pleased with the slate that came together, noting that in some previous elections there were virtually no Republicans challenging Democrats on the ballot.
"We made sure that all the important offices that were winnable were covered. We made sure we fielded quality candidates and in some cases, placeholders," he said. He declined to identify the placeholders. A placeholder is someone expected to withdraw later if the party finds a more electable candidate.

Republican George Sarantou, left will run for recorder and will face either Phil Copeland, Jame Seaman, or Kevin Eff, who are squaring off int he Democratic primary.
The Blade
Enlarge | Buy This Image
Lucas County's four current state House members will all run again, and two have opposition.
Rep. Matt Szollosi (D., Oregon) will run in the 46th District and faces two Republican opponents -- David Kissinger, a registered nurse now working as a regional vice president for a health-care information technology company, and Steve Jasinski of South Toledo, a bicycle mechanic, who ran unsuccessfully for Toledo City Council in 2010. The district includes Maumee, South Toledo, Oregon, Springfield and Jerusalem townships, and the 18th Ward in East Toledo.
Barbara Sears (R., Monclova Township) filed for re-election in the 47th District. Filing against her was Democrat Jeff Bunck, a former Anthony Wayne School district teacher. The district includes western Lucas County and most of Fulton County.
State Rep. Teresa Fedor (D., Toledo) will run in the new 45th House District, which includes West Toledo, Washington Township, and most of East Toledo. Rep. Michael Ashford (D., Toledo) will run in the 44th District in Toledo's central city. Both are unopposed.
Wood County Commissioner Tim W. Brown, a Republican; Kelly Wicks, a Democrat, and Nathan Eberly, a Libertarian, filed for the 3rd District House seat in Wood County. Incumbent 3rd District Rep. Randy Gardner (R., Bowling Green) is not seeking re-election, and instead is running for the 2nd District Senate seat now held by Republican Mark Wagoner of Ottawa Hills. Mr. Wagoner is not seeking re-election. The Senate district includes western Lucas County, and Wood, Erie, and Ottawa counties.
Also filing for the 2nd Senate District, in addition to Mr. Gardner, were Republican Michelle McCauley of Sylvania and Democrat Jeff Bretz of North Baltimore.
Mr. Brown is in his fourth term on the Wood County board of commissioners.
"The most compelling aspect of the campaign is going to be jobs," Mr. Brown said. "We use Wood County as an example here. We have laid aside partisan differences … we have worked together on jobs to put citizens first."
Mr. Wicks, who operates a coffee shop and bookstore in Bowling Green, said in a statement that creating jobs would be his priority.
"I've been working to create jobs my entire adult life," he said. "And as I watch the things that have been happening in Columbus and the actions of Gov. John Kasich's administration, I could no longer ignore my desire to step up and run for office."
Incumbent state Rep. Rex Damschroder, a Republican, will run against Democrat William Edward Young in the 88th House District, which includes Sandusky County and most of Seneca County.
Incumbent 81st District Rep. Lynn Watchmann, a Republican, and John Vanover, a Democrat, filed for the seat covering Williams, Henry, and Putnam counties, and part of Fulton County.
In the 83th House District, which includes Hancock, Hardin and part of Logan counties, Republicans Robert Sprague and Kevin Rettig and Democrat John Kostyo filed.
State Rep. Matt Huffman (R., Lima) filed to run for re-election in the 4th House District covering Allen County. The Democratic candidate was Bo Huenke.
Filing for the 5th Congressional District were Republican incumbent Bob Latta of Bowling Green, Republican Robert Wallis of Convoy, Democrat Angela Zimmann of Springfield Township, Libertarian Eric Eberly, and Democrat Aaron Patterson of North Baltimore.
Filing for the 9th Congressional District were Democrats Marcy Kaptur of Toledo, Dennis Kucinich of Cleveland, and Graham Veysey of Cleveland, and Republicans Samuel "Joe the Plumber" Wurzelbacher of Springfield Township and Steven Kraus of Huron.
Five Republicans filed for the U.S. Senate. They were Russell P. Bliss, Jr., of Willoughby; Donna K. Glisman of Graytown; Eric LaMont Gregory of Beavercreek; Ohio Treasurer Josh Mandel of Beachwood, and Michael L. Pryce of Hudson. Democratic incumbent U.S. Sen. Sherrod Brown of Avon filed for re-election. Joseph DeMare of Bowling Green filed for the Green Party.
Staff writers Ignazio Messina and Nolan Rosenkrans contributed to this report.
Contact Tom Troy at tomtroy@theblade.com or 419-724-6058.
Guidelines: Please keep your comments smart and civil. Don't attack other readers personally, and keep your language decent. Comments that violate these standards, or our privacy statement or visitor's agreement, are subject to being removed and commenters are subject to being banned. To post comments, you must be a registered user on toledoblade.com. To find out more, please visit the FAQ.