Fanon Rucker.
AP Enlarge
COLUMBUS — The only contest on the statewide Democratic ballot on Tuesday will decide whom the party will send up against Republican Ohio Supreme Court Justice Robert Cupp this fall.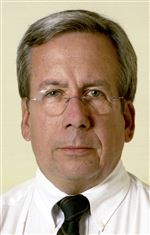 William O'Neill.
AP Enlarge
Hamilton County Municipal Judge Fanon Rucker has the Ohio Democratic Party's official endorsement. But former appellate Judge William O'Neill has twice before captured the Democratic nomination from the party's endorsed candidate and is looking to make it number three on March 6.
Either candidate could face an uphill battle against Justice Cupp, a former state senator, Allen County commissioner, and appellate judge from Lima who is seeking his second six-year term.
No Democrat has won an election for the high court since now retired Justice Alice Robie Resnick of Ottawa Hills won re-election in 2000.
It's been a largely low-profile intra-party battle with poorly funded Judge Rucker taking full advantage of party-financed slate cards, mailers, and county Democratic dinners to spread his name.
The native of Gary, Ind. is a former Cincinnati prosecutor and the son of an Indiana Supreme Court justice.
VOTER'S GUIDE TO SUPER TUESDAY
Judge Rucker came to Ohio to attend law school at the University of Cincinnati and made his home in that southwest Ohio city. He was appointed to the municipal bench in 2007, and voters later ratified that decision.
"The reality is that momentum is gathering in this race," said Judge Rucker, 40. "I'm raising people's attention as I travel to Trumbull, Mahoning, and other counties. The reaction I get from people is that they are excited that I'm in this race, that there's someone running who actually practices law as opposed to having a passing interest in the law and the race."
Mr. O'Neill, 63, of South Russell in Geauga County, has again eschewed campaign contributions to make the case that money and justice don't mix. He has depended largely on an Internet-based campaign.
He spent a decade on the Warren-based 11th District Court of Appeals, two of them as presiding judge, before stepping down in 2007 to concentrate on an unsuccessful campaign for Congress.
He now works as a pediatric emergency nurse.
"I'm deeply offended by the fact that [Justice Cupp] is taking in money in $5,000 increments from doctors, lawyers, and utility companies," he said. "The longer I do my research on my opponent, the more convinced I am that I am right and he is wrong."
Mr. O'Neill has proven successful within the Democratic Party, bucking party leadership in 2004 and 2006 to win the party's nomination for Supreme Court when the official executive committee endorsement went to others.
In both races he lost the general elections to Justice Terrence O'Donnell.
Two other top court seats are on the ballot this year, but neither holds a primary contest.
Justice Yvette McGee Brown, the bench's sole Democrat, is seeking to hold the seat to which then-Gov. Ted Strickland appointed her in early 2011. Justice Brown faces GOP opposition this fall from Butler County Domestic Relations Judge Sharon Kennedy.
Justice O'Donnell is seeking his second full six-year term against what has so far been largely token Democratic opposition from Youngstown area attorney Robert W. Price.
Contact Jim Provance at: jprovance@theblade.com or 614-221-0496.
Guidelines: Please keep your comments smart and civil. Don't attack other readers personally, and keep your language decent. Comments that violate these standards, or our privacy statement or visitor's agreement, are subject to being removed and commenters are subject to being banned. To post comments, you must be a registered user on toledoblade.com. To find out more, please visit the FAQ.