Michigan Governor Rick Snyder appears at a public hall town meeting at the Monroe County Community College La-Z-Boy Auditorium in Monroe, Mich.
The Blade/Dave Zapotosky
Enlarge | Buy This Image
MONROE — Michigan's economy and spending cuts were the focus of questions directed at Michigan Gov. Rick Snyder at a public town-hall meeting Monday.
Several hundred Michigan residents gathered in Monroe County Community College's auditorium to question the governor, with most of the queries centering on job creation during economic downturn and on some of the state's recent spending cuts.
One audience member, Kirstin Doyle, asked what the governor was doing to promote small businesses.
Mr. Snyder highlighted tax reform.
"We wiped out the Michigan business tax, which was the dumbest tax in the United States," he said.
The remark, which drew some applause from the crowd, referred to a new tax policy that replaces the Michigan business tax with a 6 percent corporate income tax.
"We fundamentally changed how we do economic development," he said, citing the state's recent elimination of several business tax credits, deductions, and exemptions.
Mr. Snyder's pledges to balance the budget drew an enthusiastic response from the crowd, but so did a few tough questions about state spending cuts.
"The issue is that we had a billion-and-half-dollar deficit," Mr. Snyder said when asked about the cut in per-pupil spending for schools.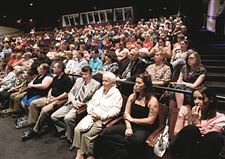 The audience listens as Michigan Governor Rick Snyder answers questions submitted by them, during a public hall town meeting.
The Blade/Dave Zapotosky
Enlarge | Buy This Image
"Was it easy? No," he said. "It's not just spending money. It's the return on that money."
The governor remained to answer eight questions, but he pledged to respond to all the remaining queries by email.
Monroe resident Yvonne Gnaedinger, 61, said she came to the event because she supports Mr. Synder.
"I wanted to hear what he had to say," she said, adding that she hoped some of Mr. Snyder's policies would find support in Washington.
Another Monroe resident, Mike Ingels, 27, said he came because he was concerned about new pension reductions affecting his father's retirement.
Twenty protesters lingered outside the auditorium, primarily to speak against Michigan's public-sector spending cuts.
Most of the protesters were local educators from Monroe, said Brian Sexton, president of the Monroe County Education Association, who attended the protest.
"We've come to be seen and heard," said Ernie Whitehouse, a member of the Progressive Democrats of Monroe. "We're opposed to austerity and outsourcing public jobs."
During the meeting, Mr. Snyder reiterated his support for a recent agreement with the Canadian government to build a bridge to supplement the Ambassador Bridge over the Detroit River.
"This bridge is about job creation," he said, emphasizing the importance of Michigan's trade relationship with Canada.
Roy Norton, consul general of Canada at Detroit, also spoke briefly in support of a new bridge. "Canada will front all the cost of the bridge, and carry all of the liability," he said.
Mr. Snyder, who previously was the chairman of the board of the Gateway computer company and was chief executive officer of a Michigan-based venture capital firm, often framed his view about government's role with business terminology.
"The role of government isn't to be an ATM and just give out money," he said. "Our goal is to give you good customer service."
He also directly addressed the subject of lowering the state's unemployment rate.
"I don't want you to be satisfied," he said. "The role of government isn't to create jobs. Our role is to enable job creation to happen."
Michigan's unemployment rate stands at 8.5 percent, according the U.S. Bureau of Labor and Statistics.
Contact Casey Sumner at: csumner@theblade.com or 419-724-6084.
Guidelines: Please keep your comments smart and civil. Don't attack other readers personally, and keep your language decent. Comments that violate these standards, or our privacy statement or visitor's agreement, are subject to being removed and commenters are subject to being banned. To post comments, you must be a registered user on toledoblade.com. To find out more, please visit the FAQ.