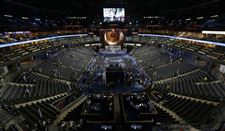 The production crew works on final adjustments for the Democratic National Convention in Time Warner Cable Arena in Charlotte. The convention starts Tuesday.
ASSOCIATED PRESS Enlarge
CHARLOTTE -- This is not Baldemar Velasquez's first National Democratic Convention. But it will be the first time the farm labor advocate will walk into the convention wearing the credentials of a voting delegate rather than stand outside among the throngs of protesters.
"It's just an example of how democracy evolves and allows the integration of people who were formerly on the outside to participate in our system of democracy," said Mr. Velasquez of Toledo, president of the Farm Labor Organizing Committee.
When the convention is gaveled into session Tuesday in the Time Warner Cable Arena in Charlotte, Mr. Velasquez will stand among 6,000 voting and nonvoting delegates, 191 of them voting delegates from Ohio and 203 from Michigan.
PHOTO GALLERY: President Obama arrives in Toledo
RELATED ARTICLE: President returns to Toledo for Labor Day
The three-day event's goal is to remind Americans why they voted for Mr. Obama in the first place, convince them they made the right choice, and, failing that, make the case that newly crowned GOP nominee Mitt Romney would not be a better choice.
"I laugh every time people say that Obama has to present clear positions. No, he doesn't," said Larry Sabato, director of the University of Virginia Center for Politics.
He was at last week's Republican National Convention and is to be in Charlotte this week. "He has to convince people that, as poor as some people say his performance has been, it's better than how Romney would perform," Mr. Sabato said. "That's his ticket to re-election. It's probably his only ticket."
Former Presidents Bill Clinton and Jimmy Carter, First Lady Michelle Obama, 2004 nominee U.S. Sen. John Kerry from Mr. Romney's adopted state of Massachusetts, and a list of current and ex-Democratic officeholders, including former Ohio Gov. Ted Strickland, are among those enlisted to make the party's case for a second Obama term.
Mr. Obama and Vice President Joe Biden, visiting Toledo and Detroit, respectively, today, will accept their nominations on Thursday night in Bank of America Stadium.
Wood County Democratic Party Chairman Mike Zickar said Charlotte is about giving the President and Democrats a chance to celebrate their accomplishments during tough times.
Taking credit
"People will be tuning in to hear the President take credit for what he's done," he said. "There's been so much noise in this election with all the third-party ads. Some just outright lie about things. This is a speech to look to for him to be forceful in taking credit."
An officer monitors an area near a protest in Charlotte. A group gathered Sunday ahead of Tuesday's start of the Democratic convention.
ASSOCIATED PRESS Enlarge
Expect to hear a lot about the bailout of the auto industry.
"He made a courageous decision and bet on the American worker, bet on American ingenuity," said David Axelrod, the Obama campaign's senior adviser. "We all know now that was the right decision. You will hear about that at our convention, and you will hear from people from top to bottom who were involved in that decision …
"You consider a state like Ohio, where one in eight workers are either auto workers or in auto-related jobs," he said. "This was a hugely important development. We heard [Republican Gov. John] Kasich talk at the Republican convention about how the Ohio economy is doing well. This is a principal reason for that."
Mr. Strickland was chairman of the party's platform-drafting committee, and he and his wife, Frances, are voting delegates. He agreed that the convention is about more than just Mr. Obama and must draw contrasts with Mr. Romney.
Huge differences
Democrats contend that Mr. Romney's policies of reduced regulation and renewed and expanded tax cuts are a step backward.
"We as people tend to have memories that fade rather quickly in terms of the conditions that existed in the recent past that had us rushing headlong toward a second Great Depression…," he said. "If we had continued much longer in that direction, we would have found ourselves in a hole we might never emerge from. The President took strong and decisive action. He got us to where we are headed in the right direction.
"It's important to remind people how things were and important to show them things are getting better," Mr. Strickland said. "It's also important to point out the fact that the recession did not have to happen. It was a result of decisions made that created the conditions for this recession. Mitt Romney and Paul Ryan have no new ideas. They want to take us back to the policies of the Bush administration, as Clinton put it, 'on steroids.' "
Romney spokesman Chris Maloney said the convention definitely will provide a contrast of two visions, but that contrast will favor the former Massachusetts governor.
"President Obama puts his faith in government," he said. "The American people deserve a president like Mitt Romney, who puts his faith in them. The Romney-Ryan plan for a stronger middle class will jump-start our economy and create 12 million new jobs and, most importantly, give Americans hope for a better future.
"In 2008, Barack Obama campaigned on the promise of hope and change," Mr. Maloney said. "But Americans are no better off today than they were four years ago."
Key battleground states such as Ohio typically get preferential treatment at conventions with prime seating space on the convention floors and in hotel placements.
"We will certainly receive a lot of attention," said Jerid Kurtz, Ohio Democratic Party spokesman. "People are very interested in which way the state is going to go. Everyone will be pleased with the level of attention they will get."
According to the party, the Democratic delegation this year consists of 65 black delegates, 26 delegates under the age of 25, 15 gay delegates, 11 Hispanics, four disabled delegates, and one Native American.
At the just-completed GOP convention, the only delegation with better seats than Ohio was Michigan, where Mr. Romney was born and raised. Michigan's delegation was also conveniently housed in the hotel next to the convention center.
This time, Democrats dropped preferential treatment for lodging, choosing hotels by lottery. Ohio has two hotels near the University of North Carolina-Charlotte about nine miles from Time Warner Cable Arena.
Ohio has prime seats again this year. For speakers looking out into the crowd from the stage, the Ohio delegation will be to their immediate left. "Ohio and Virginia are the two key states," Mr. Sabato said. "North Carolina is going to go for Romney, no doubt. Virginia and Ohio are very much in play. If I knew they'd be splitting those states, either one could win. If one of them wins both, I could pretty safely predict the outcome of the election."
Speech to watch
Lucas County Treasurer Wade Kapszukiewicz, another delegate, said the speech to watch this week will be Mr. Clinton's when he formally submits Mr. Obama's name for the nomination on Tuesday.
"That is going to be about answering some of the ridiculous charges Republicans have made in Tampa," he said. "This campaign is about choices and drawing contrasts."
Sandra Wise of Fremont -- a Sandusky County election board member, farm owner, and dental hygienist -- boarded a delegate bus that left Toledo on Sunday for Charlotte. She's expecting an upbeat convention, in contrast to what she said she saw in Tampa.
"The voters already know about Obama," she said. "They like him. He's a good guy, the guy next door. What we have to tell people and reiterate is how we need to move forward, not backward. We've ended the war in Iraq. A date is set for Afghanistan to get out. We got rid of Osama bin Laden. The health-care law brings more people into the system. I'm a farmer's wife. I've been paying high premiums forever."
Contact Jim Provance at: jprovance@theblade.com, or 614-221-0496.
Guidelines: Please keep your comments smart and civil. Don't attack other readers personally, and keep your language decent. Comments that violate these standards, or our privacy statement or visitor's agreement, are subject to being removed and commenters are subject to being banned. To post comments, you must be a registered user on toledoblade.com. To find out more, please visit the FAQ.