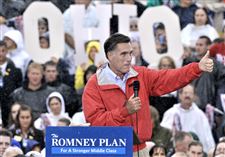 Republican presidential candidate, former Massachusetts Gov. Mitt Romney campaigns FRIDAY in the rain at Lake Erie College in Painesville.
ASSOCIATED PRESS Enlarge
PAINESVILLE, Ohio -- In a speech largely focused on economic issues, Mitt Romney told a crowd of more than 3,000 at Lake Erie College on Friday that President Obama's administration has failed to turn the economy around and he is the candidate who can put Americans back to work.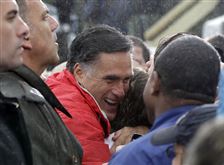 Republican presidential candidate Mitt Romney hugs a supporter as he campaigns in the rain.
ASSOCIATED PRESS Enlarge
Most of the crowd had been waiting for more than two hours in a steady rain to hear the Republican presidential candidate and former Massachusetts governor speak.
"Ohio is committed," Mr. Romney told the audience as he thanked them for waiting in the cool and wet conditions. "I'll tell you that, you're committed."
Shortly after his address began, he asked the crowd to observe a moment of silence and place their hands on their hearts in honor of the four Americans who were recently killed at the U.S. consulate in Libya. The remains of the four, including the ambassador, were returned to the states on Friday afternoon.
"They were great men and women who loved this country and who served this country," he said.
Mr. Romney said he delayed his appearance at the rally slightly in order to wait until their bodies had returned home.
The heart of his address centered on economic matters, however.
"Middle-income families are struggling," he said. "Treading water at best and drowning at worst."
Mr. Romney outlined his five-point plan to improve the economy, emphasizing energy independence, increased trade, better schools and job training, lowering the national debt, and championing small business.
He also pledged to call China a currency manipulator and "stop them in their tracks" from artificially manipulating their currency, which makes Chinese exports more competitive globally.
Mr. Romney repeated his promise to repeal the Patient Protection and Affordable Care Act, also known colloquially as Obamacare. He said he will "replace it with something that will truly reform health care."
He only briefly touched on education issues, a fact that Obama campaign officials highlighted.
A statement from Jessica Kershaw, spokesman for the Obama campaign in Ohio, said, "While at Lake Erie College today, Mitt Romney failed to speak honestly about the critical choice Ohio students face in this election -- a choice between a President who expanded access to quality, affordable higher education by doubling the amount of Pell Grants for students who need them, or the Romney-Ryan team who would put a college education out of reach for so many Ohioans.
"Under the Romney-Ryan budget, more than 356,000 Ohio students would see their Pell Grants cut by an average of $830," she said.
"Where would all of these funds go that were meant for students? To pay for tax cuts to millionaires just like Mitt. So the question for Mitt Romney today is this: How can Ohio's young people get the jobs of tomorrow, if Romney and Ryan won't invest in education today?"
When he did mention education, Mr. Romney said, "It's time for us to put our kids and our parents first and the teachers' union behind."
Mr. Romney and the Republican speakers who preceded him emphasized the importance of Ohio's role in the November election.
Mr. Romney urged the crowd to find people who had voted for Mr. Obama in 2008 and tell them to get behind the Romney campaign.
Josh Mandel, running for U.S. Senate against Democrat Sherrod Brown, told the crowd before Mr. Romney spoke, "It is very likely the control of the White House and the balance of the United States Senate is going to come down to Ohio."
Doris West, 78, said she waited in the rain for about two hours to hear Mr. Romney speak.
"We have to get rid of Obama," she said, wearing a makeshift poncho made from a black trash bag to protect against the rain.
Her husband, Arthur West, said he is typically a Republican voter who had been hoping Rick Santorum would be his party's nominee for President, although he intends to vote for Mr. Romney in November.
Denise Molesch, who lives in nearby Mentor, said she agreed with Mr. Romney's message.
"Supporting the middle class is key," she said.
Recent polls show Mr. Romney trailing President Obama by 5 to 7 points in Ohio.
Contact Kate Giammarise at: kgiammarise@theblade.com or 419-724-6091 or on Twitter @KateGiammarise.
Guidelines: Please keep your comments smart and civil. Don't attack other readers personally, and keep your language decent. Comments that violate these standards, or our privacy statement or visitor's agreement, are subject to being removed and commenters are subject to being banned. To post comments, you must be a registered user on toledoblade.com. To find out more, please visit the FAQ.