Congresswoman Marcy Kaptur celebrates her victory with supporters at the Teamsters Union Hall in Toledo. To her left is Bill Lichtenwald, president of Teamsters Local 20, and on her right is George Tucker, executive secretary of Greater NW Ohio AFLCIO.
The Blade/Lori King
Enlarge | Buy This Image
The three incumbent congressmen from northwest Ohio successfully fought off and defeated challengers looking to take their places in Washington.
U.S. Rep. Marcy Kaptur (D., Toledo), the senior Democratic woman in the House, easily defeated nationally known Republican Samuel "Joe the Plumber" Wurzelbacher and Libertarian Sean Stipe in the 9th Congressional District.
Miss Kaptur never mentioned Mr. Wurzelbacher or her walloping victory during a speech to Democrats who rallied Tuesday night inside the Teamsters Local 20 Hall on the Anthony Wayne Trail. Instead, she used the opportunity to praise President Obama and other key Democrats for winning.
Mr. Wurzelbacher — who attended what turned out to be a somber gathering of Republicans Tuesday night at Packo's at the Park downtown — said Miss Kaptur's re-election was "unfortunately predictable" given the Democratic dominance of the 9th District.
"Marcy Kaptur did not do the will of her constituents and voted for Obamacare and it is going to be the highest tax increase on the middle class in history," Mr. Wurzelbacher said. "It is not the taxpayer who won here, it is the party that won here ... we are not going to get any real change."
For the first time, parts of Toledo and Cleveland will be in the same congressional district when the new term begins next year. The newly remapped 9th Congressional District includes parts of Erie, Lorain, Lucas, Ottawa, and Cuyahoga counties. Miss Kaptur earlier this year defeated a longtime congressional colleague -- U.S. Rep. Dennis Kucinich (D., Cleveland) -- and political newcomer Graham Veysey in the Democratic primary.
Republican U.S. Rep. Bob Latta (R., Bowling Green) easily retained the 5th Congressional District by defeating Democratic challenger Angela Zimmann and Libertarian Eric Eberly. The 14-county district includes Defiance, Fulton, Hancock, Hardin, Henry, Lucas, Mercer, Ottawa, Paulding, Putnam, Van Wert, Williams, Wood, and Wyandot counties.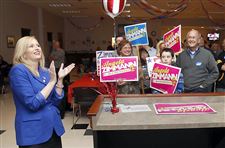 Angela Zimmann and supporters watch election results in Rossford. Ms. Zimmann lost to incumbent U.S. Rep. Bob Latta (R., Bowling Green).
THE BLADE/LORI KING
Enlarge | Buy This Image
At midnight, Mr. Latta appeared to have won every county, except for Lucas County, which was too close to call.
Mr. Latta is serving his third term in the House after being re-elected in 2010.
In the 4th Congressional District, incumbent Republican Jim Jordan defeated Democrat Jim Slone and Libertarian Chris Kalla.
Miss Kaptur, 66, a 15-term incumbent, and Mr. Wurzelbacher, 38, met in one formal debate during the campaign.
Miss Kaptur said she's focused on a continued economic recovery in the region by boosting established industries such as automotive and the energy sectors, and diversifying local economies by helping emerging industries with research and development. She also said she wants to protect Social Security and Medicare for current and future generations, saying she doesn't trust Wall Street with funds for those programs.
Mr. Wurzelbacher, a plumber who worked full-time on his campaign, told voters he wanted to boost prosperity by reforming the tax code and regulations.
Mr. Stipe, 40, owns a painting and contracting businesses. He acknowledged his slim chance of winning but said he tried to advance his message of restructuring the federal tax code into a national consumption tax.
Mr. Latta, 56, often cited his support for balanced-budget amendments to the Constitution and also his opposition to "overburdensome regulation," the high cost of energy, and President Obama's health-care legislation. He declined to debate Ms. Zimmann.
Ms. Zimmann, a Lu­theran min­ister and writ­ing in­struc­tor at Bowl­ing Green State University, tried to hammer Mr. Latta's record, saying he had not created jobs in the district and that 38,000 were lost during his tenure.
"One of the things I heard over and over is that we never got to debate," Ms. Zimmann said. "I think a lot of issues would have been brought to light."
She spoke to Mr. Latta just before midnight to concede.
"I do think we are a moderate district. It is a Republican district, but a moderate Republican district, and I hope they heard my message of bipartisanship," Ms. Zimmann said.
Mr. Jordan, of Urbana in Champaign County northeast of Dayton, says in his biography he is "one of the most conservative members of Congress.
Mr. Slone, of Elyria, presented himself as the grandson of a coal miner and of a farmer. He retired from General Motors after 35 years and previously ran Jim's Coffeehouse in Elyria.
Contact Ignazio Messina at:
imessina@theblade.com
or 419-724-6171.
Guidelines: Please keep your comments smart and civil. Don't attack other readers personally, and keep your language decent. Comments that violate these standards, or our privacy statement or visitor's agreement, are subject to being removed and commenters are subject to being banned. To post comments, you must be a registered user on toledoblade.com. To find out more, please visit the FAQ.