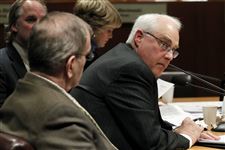 Dept. of Public Utilities' Tom Crothers listen to concerns of Toledo city council members during a meeting at the Government Center in Toledo on water billed by the Dept. of Public Utilities.
The Blade/Lori King
Enlarge | Buy This Image
The Bell administration on Monday backpedaled on its plan for an across-the-board $200 water security deposit, saying that customers with a good credit history would not be charged the deposit.
David Welch, director of public utilities for Mayor Mike Bell, also said that contrary to what he said previously about the city's deposit policy, all deposits are credited back to customers' accounts after one year if their accounts are paid up.
"This is a deposit; it's not a fee. It's refunded after 12 months," Mr. Welch said.
Returning residential users who open new accounts would not be charged a new deposit if they have a good record of paying on time, he said. But all new commercial accounts will continue to be charged the deposit, even when opened by building owners with good credit histories.
The administration's top water utility officials faced off with City Council's Utilities and Public Service Committee over the $200 water fee in a lengthy meeting.
According to Tom Crothers, commissioner of utilities administration, the department has been collecting security deposits since 1953, but the amount has varied. The new policy, formulated in October and implemented Dec. 5, established a flat $200-per-user deposit.
He and Mr. Welch said the security deposit's purpose is to ensure some people don't avoid paying for their water. They said the city's collection rate was 99 percent one year ago and has dropped slightly to 98 percent.
The administration's new deposit policy failed to reassure some councilmen, who appear to be backing a proposed ordinance introduced by Councilman Lindsay Webb that would cap the amount public utilities can charge for security deposits and specify that deposits may not be imposed on customers with good payment histories — terms similar to the new policy announced Monday.
"There's too much discretion," said councilman Tyrone Riley. "It's been on the books since 1953. You decided to enforce it without notifying the public."
Jenny Gogol, manager of utility administration, said the department is adding the details of its new policy to its Web site.
Reflecting anger from some real-estate agents and apartment owners, several councilmen urged the administration to consider billing multi-family buildings' individual tenants for their usage rather than billing building owners for all of their tenants' water.
"We should move toward the people using the service being the ones billed," said councilman Rob Ludeman. Councilman Adam Martinez said that's the same way that electric and gas service is billed.
Mr. Welch said it would be difficult for the department to track down and collect from tenants, who are transient, whereas it has the power to impose a lien on buildings with unpaid water bills.
The controversy over the deposit, which the administration admitted has been badly communicated, comes as the administration is getting ready to seek a new water-rate increase.
So far, the administration hasn't rolled out a specific rate proposal.
The Ohio Environmental Protection Agency recently determined that Toledo's water system, which serves about 500,000 people in the metropolitan area, relies heavily on equipment that is at or beyond its intended life, raising the possibility of critical water-system failures.
"The Toledo water plant is running 'on the edge' on a regular basis with relatively little room for error," the EPA study noted.
"Our treatment plant is in dire need of repair," Mr. Welch agreed.
However, the Tea Party-affiliated group Northwest Ohio Conservative Coalition is calling on citizens to demand that Toledo conduct a performance audit before council authorizes any such rate increase.
Councilmen indicated during Monday's hearing that they already had received messages calling for a performance audit. Asked whether the city would cooperate if Ohio Auditor of State Dave Yost were to start such an audit, Deputy Mayor Steve Herwat said it would.
Contact Tom Troy at: tomtroy@theblade.com or 419-724-6058.
Guidelines: Please keep your comments smart and civil. Don't attack other readers personally, and keep your language decent. Comments that violate these standards, or our privacy statement or visitor's agreement, are subject to being removed and commenters are subject to being banned. To post comments, you must be a registered user on toledoblade.com. To find out more, please visit the FAQ.