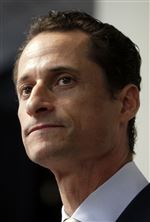 Anthony Weiner
ASSOCIATED PRESS Enlarge
NEW YORK — Former U.S. Rep. Anthony Weiner, who resigned over a sexting scandal in 2011, says he's weighing a run for New York City mayor this year.
The Democrat tells New York Times Magazine "it's now or maybe never for me." But he acknowledges that it's a long shot because some people "just don't have room for a second narrative about me."
He says he doesn't know when he'll decide on entering the race, and concedes he'd be an underdog.
Weiner represented Queens and Brooklyn for more than a decade before resigning amid the scandal over his lewd online behavior.
The interview was posted online today and is scheduled to be published on Sunday.
His wife is Huma Abedin, a longtime aide to former Secretary of State Hillary Clinton.
Guidelines: Please keep your comments smart and civil. Don't attack other readers personally, and keep your language decent. Comments that violate these standards, or our privacy statement or visitor's agreement, are subject to being removed and commenters are subject to being banned. To post comments, you must be a registered user on toledoblade.com. To find out more, please visit the FAQ.