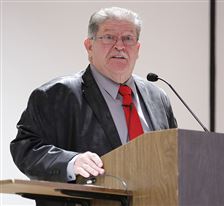 Oregon Council President Tom Susor, Mr. Seferian's challenger, said the city has bungled business development opportunities.
THE BLADE/JEREMY WADSWORTH
Enlarge | Buy This Image
Oregon Mayor Mike Seferian and his challenger, City Council President Tom Susor, faced off last week at the city's mayoral forum, touching on a range of subjects from economic development to tourism, budgeting, and senior services.
Oregon Mayor Mike Seferian said his administration has made responsible cuts to government spending.
THE BLADE/JEREMY WADSWORTH
Enlarge | Buy This Image
All topics were submitted as written questions and civility reigned. There was no ad hominem criticism, and neither candidate was put on the defensive. Both contenders agreed the city was in good shape, financially stable, with excellent police and fire protection.
But both also said there is room for improvement and pledged to keep working for that as mayor. Mr. Seferian said things were significantly better than when he took office almost four years ago and a lot had been accomplished.
Then, the city and its residents struggled with the national economic downturn. His administration, he said, adopted an "innovative approach" to spending, and made responsible cuts of more than $1 million per year in operations. Today, Oregon has a reserve of more than $4 million for fiscal rainy days.
Mr. Susor lamented opportunities lost in the past 20 years, citing the widening of Navarre Avenue as a case in point.
That project left a water main beneath the street's center, he noted, instead of moving it to the side, where it could be easily tapped into. The pavement must be dug up for every tap-in, a costly disincentive for any new business considering a location on Oregon's main commercial corridor.
Another bungled business-development project, he said, was the proposed Home Depot on Navarre that was dropped in 2002 after unsuccessful talks with the city over a zoning request.
"Home Depot should have been welcomed," Mr. Susor told the audience of about 60 in the auditorium at St. Charles Mercy Hospital.
One question verged on the personal. It noted that Mr. Seferian and Mr. Susor had businesses in East Toledo, and asked what it would take for them to be relocated to Oregon.
Mr. Susor, who has a commercial electrical contracting business with his wife, said he has looked into the possibility of moving it to Oregon, then demurred a little by saying, "We think we're business-friendly, but we're not as business-friendly as we need to be."
Mr. Seferian said his auto-repair business was a family operation run by his son, who would have to make the decision.
Citing changes to Oregon's sign code, he said the city during his tenure had made efforts to be more business-friendly but acknowledged, "I know we can do better, and that's what my administration strives to do."
To a question asking why the city doesn't spend more on senior services, Mr. Susor said passage of an 0.5-mill senior-services levy on the Nov. 5 ballot probably would lead to expansion of the senior center, and that as mayor he would offer other space for senior programs. He noted the senior citizens board decided to go to the voters to get a stable revenue stream.
Mr. Seferian said a new senior center wasn't needed now, but money to improve the current facility would be in the next city budget.
Guidelines: Please keep your comments smart and civil. Don't attack other readers personally, and keep your language decent. Comments that violate these standards, or our privacy statement or visitor's agreement, are subject to being removed and commenters are subject to being banned. To post comments, you must be a registered user on toledoblade.com. To find out more, please visit the FAQ.