Councilman D. Michael Collins — now mayor-elect — acknowledges victory during his election-night party with supporters at the Teamsters Local 20 Hall in Toledo.
THE BLADE/AMY E. VOIGT
Enlarge | Buy This Image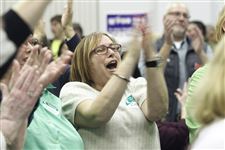 Jan Harmon joins other supporters in applauding wildly during D. Michael Collins' victory speech. He told the crowd he wanted to thank the Mayor Mike Bell for his years of public service.
THE BLADE/AMY E. VOIGT
Enlarge | Buy This Image
Toledo Councilman D. Michael Collins, after waging a campaign fueled by union ire over Mayor Mike Bell's anti-labor positions, streaked to an overwhelming victory in Tuesday's mayoral election.
Mr. Collins won 57 percent of the vote with a very low turnout.
"I just spoke to Mayor Mike Bell and thanked him for his years of service and leadership for the city of Toledo. I want to thank everyone for sharing this David-versus-Goliath win. You made it happen," said Mr. Collins, a political independent, while celebrating with supporters at the Teamsters Local 20 hall in South Toledo.
Mr. Bell, also a political independent, commiserated with friends and cabinet members at Table Forty 4 downtown, but the mayor betrayed no regrets — particularly concerning his dealing with unions and support of anti-union laws such as Senate Bill 5 in 2011 and right to work, as well as forcing concessions on city unions in 2010.
"My job was to fix the city and I have done that," Mayor Bell said. "We had a $48 million deficit and we no longer have that. We have a rainy-day fund. I wouldn't do it any different."
In his concession statement, Mr. Bell asked Toledoans to support Mayor-elect Collins.
"People have to be able to get around a new mayor," he told supporters — many of whom had tears in their eyes. "I am going to be OK and you are going to be OK. You just have to believe in this city."
Mr. Collins declared victory to a standing-room crowd shortly after 11 p.m.
The crowd leapt to its feet as Mr. Collins moved through the hall, shaking hands and congratulating his volunteers on a job well done.
"I care about this city and we are going to see a different city," he said.
"We are going to see a city were there is not a modicum of respect but respect is what is going to come out of the government."
Mr. Collins stressed his support from Toledo's unions, crediting them for helping him sweep the mayoral race.
He said he'd bring in the Federal Mediation and Conciliation Service to help negotiate the city's union contracts.
Councilman Steven Steel waits for election results. The incumbent councilman was re-elected Tuesday.
THE BLADE/AMY E. VOIGT
Enlarge | Buy This Image
"That is the only way where you truly do it where everybody owns the end result," he said.
"There cannot be winners and losers. They have to be both winners," he said, adding later, "you are my brothers and sisters in labor."
The race was watched closely statewide because of the Ohio Democratic Party's stated goal of turning Mr. Bell out of office because of his close relationship with Republican Gov. John Kasich.
"Those who attack the collective bargaining rights of police officers, firefighters, teachers, nurses, they'll be rejected by the voters," said Chris Redfern, state Democratic chairman.
"[Bell] embraced the policies of John Kasich and [on Wednesday], he'll regret it."
Matt Borges, chairman of the Ohio Republican Party, called the election "a catastrophe for Democrats."
"They failed to advance a candidate into the runoff in one of the most Democratic counties in the state. It's a sign that more and more Ohioans are tuning out the Ohio Democrats' noise and looking for an independent voice," Mr. Borges said.
At the Teamsters Hall, Jeffrey Romstadt, president of Toledo Firefighters Local 92, said he expects unions to have a better relationship with the administration with Mr. Collins as mayor.
He said the city needs to examine how many firefighters it has on duty and compare that number with how many runs are made each year, he said.
"It's about keeping us safe with the proper numbers and manning," Mr. Romstadt said.
The fire department makes more than 60,000 runs a year and has not been able to increase its roster, he said. "We need to sit down and talk about what 60,000 means," Mr. Romstadt said.
Former Mayor Carty Finkbeiner said Mr. Collins will invest in the city's roadways and public spaces to keep people from moving out of the city limits.
"The issue that emerged and is important is the quality of living in Toledo neighborhoods," the former mayor said.
Mayor Bell's election-night party roared hours before the results were known — many jubilant and confident the incumbent would be re-elected for another four years.
The mood turned south just before 11 p.m. with 75 percent of the vote counted and Mr. Collins in a healthy lead.
Nonetheless, the crowd started cheering, "We want Mike," despite the results.
The incumbent mayor was cheered when he arrived at the downtown restaurant Table Forty 4 just after 9 p.m. to a veritable who's who of the Bell administration and Toledo's business community.
"He understands the real issues,""said Dean Kaplan, executive vice president of K. Limited, a trucking company.
"The perfect example he has given is Detroit. We could have easily fallen into the same pit."
Developer Brian McMahon, who butted heads with Mr. Finkbeiner, said, "Mayor Bell has quietly been the best regional mayor in my lifetime."
Local businessman Bruce Rumpf, a registered Democrat who supported Mayor Bell, said Mr. Collins "does not have the ability to turn Toledo into a world-class city."
Bell campaign consultant Mark Luetke said negative television commercials against Mayor Bell swayed voters.
"You can't deny that almost $250,000 of independent union money would have a significant impact on the outcome of an election," Mr. Luetke said.
It was a classic business vs. labor fight with very little political party involvement, since neither ran on a party label.
The Toledo Board of Realtors and the Toledo Regional Chamber of Commerce supported Mr. Bell, while state and local unions threw as much money as they could at the Collins campaign, after already having spent heavily on Lucas County Auditor Anita Lopez, a Democrat, who lost in the Sept. 10 primary.
Mr. Collins was considered a distant fourth-place candidate when he announced his run for mayor May 15 outside the shuttered Northwest District Police station on Sylvania Avenue.
But Democrats Lopez and Councilman Joe McNamara split the Democratic vote and Mr. Collins came in second after Mr. Bell.
Using the tenacity he displayed as a councilman, Mr. Collins attacked Mr. Bell over increased crime in the city, the size of the 2010 city deficit, a luxury SUV purchased for the mayor's use, Mr. Bell's support of Senate Bill 5 in 2011, and petty corruption in the city's Neighborhoods Department that Mr. Bell inherited.
The former street cop and detective campaigned on a shoestring, using only volunteers until after he won the primary and focusing on walking door-to-door and waving at passing motorists on busy streets.
His biggest support came from unions, including the construction trades unions, the city fire and police unions, and the state AFL-CIO, which were outraged by Mr. Bell's support in 2011 of Senate Bill 5/​Issue 2, a Republican-backed referendum that, if passed, would have weakened public employee unions.
That came after Mr. Bell already had driven a wedge between himself and the unions that backed him in 2009 by forcing concessions out of resistant city unions.
Mr. Bell made matters worse when he said he could support a right-to-work law if that would be in Toledo's economic interests.
Mr. Collins, 69, grew up in central Toledo and the Old South End and graduated from Libbey High School.
He served in the Marine Corps and entered the Toledo Police Department in 1973, earning a degree from the University of Toledo along the way.
He served 10 years as president of the Toledo Police Patrolman's Association.
After retiring in 1999, Mr. Collins became a criminal justice instructor at UT. In 2007, he was elected to Council District 2 in South Toledo. He is married to Sandra Drabik, former general counsel of the University of Toledo.
Mr. Bell, 58, who was fire chief from 1990 to 1997 and then state fire marshal for two years, defeated endorsed Democrat Keith Wilkowski in 2009.
He traveled around the world to promote Toledo — a campaign that he said was starting to bear fruit.
He sold the waterfront Marina District to Chinese investors for $3.8 million, restoring it to taxpaying status, but disappointing Toledoans as it remained undeveloped.
Blade reporters Ignazio Messina and Kris Turner contributed to this report.
Contact Tom Troy: tomtroy@theblade.com or 419--724-6058 or an Twitter @TomFTroy.
Guidelines: Please keep your comments smart and civil. Don't attack other readers personally, and keep your language decent. Comments that violate these standards, or our privacy statement or visitor's agreement, are subject to being removed and commenters are subject to being banned. To post comments, you must be a registered user on toledoblade.com. To find out more, please visit the FAQ.