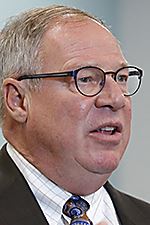 Collins
THE BLADE
Enlarge | Buy This Image
The beginning of the D. Michael Collins era as Toledo mayor is near — and, though Mr. Collins had expressed an interest in a low-key inauguration party, his followers are making plans for a $100-a-plate affair on Feb. 1 at the SeaGate Convention Centre, the same place outgoing Mayor Mike Bell had a posh inauguration party.
VIP tickets will be $1,000, according to Matt Zaleski, a member of Mr. Collin's campaign team now running his media relations and special events.
Mr. Collins said it was his desire to keep both his swearing-in ceremony on Thursday and the subsequent inauguration party on Feb. 1 simple. Now it appears he may only get his wish on the former.
"The swearing-in is going to be in the lobby of One Government Center. Sandy is coordinating it and there will be soft drinks and cookies or cakes or something," Mr. Collins said, referring to his wife, Sandy Drabik.
Judge Ruth Ann Franks of Lucas County Common Pleas Court will administer the oath of office. The Rev. Al Ceranowski, a retired Catholic priest and former chaplain of the Toledo Police Patrolman's Association — which Mr. Collins led as president for 10 years — will offer a prayer.
The event is to begin at 4 p.m. so Mr. Collins can take his seat as mayor at council's first meeting of 2014 at 5:30 p.m Thursday, the moment his term begins.
"We have sent invitations out for those people who we feel worked with us on the campaign and it is going to be just a friendly experience for everyone and we have no intention of any revenue," Mr. Collins said of that ceremony.
Four years ago, Mike Bell took the oath of office at the Navy Bistro Courtyard at The Docks at 3 p.m. and succeeded his former boss, Mayor Carty Finkbeiner, at 5:30 p.m. that day, as required by the City Charter.
Before his swearing-in and his speech, Mr. Bell made his way throughout the crowd of about 300, shaking hands and giving hugs.
Mr. Bell's swearing-in ceremony was followed by a reception with a cash bar and food. The crowd included most of his appointed directors, some members of City Council, former politicians, ministers, political volunteers, union representatives, and business people.
Lisa Ward, Mr. Collins' council legislative aid and soon-to-be public information officer, said the mayor-elect wants the Thursday event to include "just close friends and family."
Publicizing the event is sure to draw many well-wishers, she said.
Mayor Bell had 700 people join him at the Seagate Convention Centre three weeks after his swearing-in to celebrate his inauguration and show a measure of solidarity for his tough plan to fix the city's problems at the time, which included a projected $48 million budget shortfall. Mr. Bell was decked out in a cream-colored tuxedo back then.
Mr. Collins said that is not his style.
He said he told his wife, as well as campaign volunteers, that he did not want an inauguration party.
"They are planning on a party," he said. "They keep me out of the loop 'cause I keep saying no. Ultimately, they will tell me the details."
Mr. Collins' idea to keep his inauguration party low-key apparently went by the wayside as people close to him went ahead with planning.
Ms. Drabik said the Feb. 1 event could include 500 people.
Contact Ignazio Messina at: imessina@theblade.com or 419-724-6171 or on Twitter @IgnazioMessina.
Guidelines: Please keep your comments smart and civil. Don't attack other readers personally, and keep your language decent. Comments that violate these standards, or our privacy statement or visitor's agreement, are subject to being removed and commenters are subject to being banned. To post comments, you must be a registered user on toledoblade.com. To find out more, please visit the FAQ.