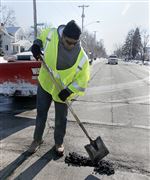 Debbie Gray, who works for the city's Department of Streets, Bridges, and Harbor, patches a pothole on Douglas Avenue near Westbrook Drive in West Toledo.
THE BLADE/JETTA FRASER
Enlarge | Buy This Image
Ray Jeffers' towing company towed away a car damaged when the driver hit a massive pothole on Monday, the day before that, the day before that, and so on.
"This is the worst year I've seen since 1978," Mr. Jeffers, owner of Ray's Service Center & Towing, said referring to the blizzard that crippled the Toledo area that year.
And it's just expected to get worse with a weather forecast for the rest of the week — including today and Wednesday — that doesn't offer any relief for motorists. There is a winter storm warning in effect for Lucas, Wood, Hancock, Ottawa, Sandusky, Seneca, and Erie counties from 7 p.m. today through 5 p.m. Wednesday.
The rest of northwest Ohio will be under a winter storm watch.
Dave Welch, Toledo's streets, bridges, and harbor commissioner, said he's never seen a season harsher on the city's roadways.
"This is the worst I have ever seen, not just the number of potholes, but also the depth," Mr. Welch said. "The extreme cold we had, then days like today with the water and moisture. Once it sinks into the pavement and the temperature drops below freezing at night, the ice expands and pops everything up."
City crews are working overtime and weekends but still have had trouble keeping up.
As of Friday, Toledo employees filled 6,556 potholes this winter, with 436 of those last week alone.
Some areas of the city are worse than others, resembling the lunar landscape more than an urban thoroughfare.
"Look at the Anthony Wayne Trail and Douglas," Mr. Welch said. "Those are constantly popping up on us."
Bob Amonette, owner of Bob's Tire & Auto, 1618 Monroe St., said he has been busy every day with customers who need new tires and rims after hitting potholes.
"To me it's normal. It happens every year, especially when it gets as cold as it has been, warms up, and then it rains and freezes again," Mr. Amonette said.
Theresa Pollick, spokesman for the Ohio Department of Transportation in Bowling Green, said state workers this winter have had little rest. "We're either doing snow and ice or potholes," she said.
Southbound I-75, just south of the downtown Toledo exit, is among the problem areas ODOT is concentrating on now.
Residents can report potholes to the City of Toledo, by calling 419-936-BUMP or through an online reporting form at toledo.oh.gov.
The state had used 57,000 tons of salt and 74,500 hours of labor as of Friday in Ohio's eight northwestern-most counties at a total cost of about $6.5 million. That is up over the season averages for the previous five winters, which was 41,000 tons of salt and $5.1 million in expenses.
In January alone, the city of Toledo used 29,056 tons of salt. An additional 10,844 tons has been spread on city streets since the season began.
Both the city and ODOT are filling repeat-offender potholes.
"Any repair we did do, it did crack and cause the roadway to damage," Ms. Pollick said.
Cold-patch asphalt, which is not known for its durability, is used to fill the new holes, Mr. Welch said. That does not adhere to the pavement as well as the "hot-mix" that is used during warmer weather, he said.
Jay Berschback, chief meteorologist for WTVG-TV, Channel 13, predicted another wintry, blustery, and arctic week.
"[Tonight], into the night time's hours, snow will develop throughout the area and become heavy overnight into Wednesday morning," Mr. Berschback said. "As the northeast winds begin to increase, this should make for a very rough Wednesday morning commute, more school delays, and more closings will be possible."
He said the temperature will be in the mid-20s through Wednesday.
"We are dry and cold Thursday and Friday with highs in the teens and lows near zero," Mr. Berschback said.
More bad news is on the way.
"There is another weather system we are watching for the weekend, but the latest indications are that the worst of that one will stay just to our south," he said.
The National Weather Service outlook for February predicts below-average temperatures and above average precipitation, Mr. Berschback said.
"Until the middle of the month, I don't see any thaws coming," he said.
Contact Ignazio Messina at: imessina@theblade.com or 419-724-6171 or on Twitter @IgnazioMessina.
Guidelines: Please keep your comments smart and civil. Don't attack other readers personally, and keep your language decent. Comments that violate these standards, or our privacy statement or visitor's agreement, are subject to being removed and commenters are subject to being banned. To post comments, you must be a registered user on toledoblade.com. To find out more, please visit the FAQ.