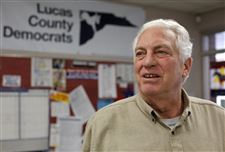 It remains to be seen whether Ron Rothenbuhler will face a challenger to lead the Lucas County Democratic Party.
The Blade
Enlarge | Buy This Image
Burned in last year's mayoral race, the Lucas County Democratic Party has taken steps to be able to put the party behind a candidate before a primary.
But whether Ron Rothenbuhler, chairman of the Lucas County Democratic Party since 2007, will face a challenger for re-election later this spring remains unknown.
The party's central committee, made up of elected precinct representatives, voted Thursday night to abandon its long-held policy against endorsing candidates before the primary.
Some Democrats believe Mr. Rothenbuhler's refusal to deviate from the no-endorsement policy contributed to the bitter contest between county Auditor Anita Lopez and Toledo City Councilman Joe McNamara last year in Toledo's mayoral primary. The two Democrats came in third and fourth, respectively, leaving two independents — incumbent Mayor Mike Bell and City Councilman D. Michael Collins — to vie in the November runoff. Mr. Collins won.
"I do believe [the mayoral race] was the turning point where neither candidate got the nod, and look what happened," Mr. Rothenbuhler said.
Under the new bylaw adopted in a meeting of the central committee Thursday night, to gain endorsement a candidate must win 60 percent of the party's executive committee. Those voting must have attended at least one of the three previous meetings of the executive committee.
Mr. Rothebuhler, 66, of Oregon, said he plans to run again for chairman after the election of a new central committee May 6.
"I feel, if I run, I have a very good chance of getting re-elected," Mr. Rothenbuhler said.
A former head of the regional carpenters' union, Mr. Rothenbuhler was elected chairman in 2007 to bring some peace to the party that had been wracked by dissension between the so-called A-team and B-team from 2003 to 2006.
Mr. Rothenbuhler's leadership came under criticism within the party when it ended up without a candidate in the November mayoral race for the first time ever and failed to field full slates for city council and the Toledo Board of Education.
An effort led by Lucas County Commissioner Pete Gerken to recruit new Democratic Party Central Committee members did not generate a huge turnout. Of 351 precincts, Democrats are running in 102 of them, of which six are contested, according to a preliminary count from the Lucas County Board of Elections.
"It's a start," Mr. Gerken said of the modest response. "These people were recruited without a specific agenda. I know the majority just want good leadership and a rebuild, to start." He said he hasn't been asked for anyone's support for chairman and didn't endorse anyone.
Gary Johnson, chairman of the central committee, said he doesn't see a lot of new names in the list of candidates who filed to run in the May 6 central committee election.
"The vast majority of people who made the ballot were there before," Mr. Johnson said. He said he is supporting Mr. Rothenbuhler's re-election.
Mr. Rothenbuhler welcomed new candidates for central committee, saying, "I hope they want to do work rather than just freeload."
Contact Tom Troy at: tomtroy@theblade.com, 419-724-6058, or on Twitter @TomFTroy.
Guidelines: Please keep your comments smart and civil. Don't attack other readers personally, and keep your language decent. Comments that violate these standards, or our privacy statement or visitor's agreement, are subject to being removed and commenters are subject to being banned. To post comments, you must be a registered user on toledoblade.com. To find out more, please visit the FAQ.