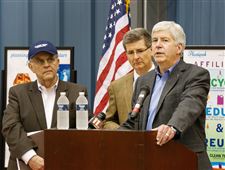 Michigan Gov. Rick Snyder, right, accompanied by Bill Young, CEO of Plastipak Packaging, left, and Dan Wyant, director of the Michigan Department of Environmental Quality, announced on Monday in Dundee, Mich., a statewide effort to double the amount of residential recycling.
THE BLADE/JETTA FRASER
Enlarge | Buy This Image
DUNDEE, Mich. — For about $1.5 million, Michigan Gov. Rick Snyder hopes to double his state's track record for recycling within two years.
He announced his new statewide initiative at an event inside the Clean Tech plastic recycling site in Dundee that is owned and operated by Plastipak Packaging, a Michigan-based manufacturer of plastic containers and plastic resin products for food, beverage, and consumer products sold around the world. Mr. Snyder hailed Plastipak's business model as one that could inspire others to invest in recycling, thereby creating more jobs and helping to protect Michigan's environment.
"This is truly a case where you can help the economy and our environment," Mr. Snyder said.
Nobody at the event had a good explanation for how or why Michigan's recycling rate for residential household waste is only about 15 percent, the worst in the Great Lakes region and less than half of the national average of 35 percent.
When Michigan adopted its 10-cent bottle deposit law in 1976, it was seen as one of the country's most forward-moving states on litter. Much of the trash along highways disappeared within a few short years, prompting other states to enact deposit laws.
Ohio has considered one from time to time, but the bottling industry has successfully lobbied against it and convinced officials to keep recycling voluntary.
But bottled water and many noncarbonated beverages that came along later aren't subjected to Michigan's bottle law. Plus, Michigan has not done a good job in making recycling opportunities available for other projects, officials said.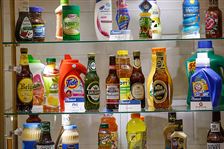 Plastipak Packaging produces plastic bottles from material processed at Clean Tech's recycling site in Dundee. The packages contain products from soaps to beers to cheese.
The governor's office said only 25 Michigan counties have convenient access to recycling opportunities.
The only one in southeastern Michigan that does is Washtenaw County, where Ann Arbor is located.
Kerrin O'Brien, Michigan Recycling Coalition executive director, said she believes Detroit is the nation's largest city without a comprehensive recycling program.
Mr. Snyder is asking lawmakers for $1 million to launch the initiative, which is to promote public awareness, improve access, and develop stronger recycling incentives. Another $500,000 is expected to be drawn from other programs, Ms. O'Brien said.
Rural communities of less than than 10,000 people will be encouraged to set up more drop-off sites, while communities of more than 10,000 people will be encouraged to create or expand curbside recycling programs, she said.
Mr. Snyder said in an interview with The Blade that he considers Michigan's 1976 bottle bill to be a "landmark event," but isn't sure why the state did not build upon it by creating or expanding recycling programs for other household products. "We tend to get too complacent and content," he said.
The governor's office said Michigan annually disposes of $435 million of paper, metal, glass, plastic, and other products that could be recycled.
Dan Wyant, Michigan Department of Environmental Quality director, said the initiative was developed over 17 months with the help of 45 groups.
Contact Tom Henry at: thenry@theblade.com or 419-724-6079.
Guidelines: Please keep your comments smart and civil. Don't attack other readers personally, and keep your language decent. Comments that violate these standards, or our privacy statement or visitor's agreement, are subject to being removed and commenters are subject to being banned. To post comments, you must be a registered user on toledoblade.com. To find out more, please visit the FAQ.