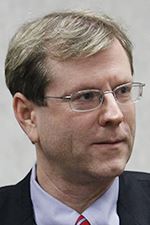 Stainbrook
With an election only five days away, three members of the Lucas County Board of Elections voted Thursday to launch an investigation against the fourth member over an allegation that he sent a text to a board employee encouraging him to drag out preparations for the election.
The target of the investigation, Republican board member Jon Stainbrook, denied sending such a text to former seasonal board employee Jacob Sanford.
Records to prove the claim may be hard to come by. Following the meeting, Mr. Stainbrook voluntarily logged into his Verizon cell phone account on a laptop computer in The Blade's reception area.
A Blade reporter who looked through the online record saw no records of text messages between Mr. Stainbrook and Mr. Sanford during the period claimed by an accuser.
Board member John Irish made the motion to "begin the process of investigation" of the allegation. Mr. Stainbrook abstained from the vote.
Mr. Irish said that the board has an obligation to pursue the allegation to find out if it is true. He said the board will attempt to subpoena phone records and witnesses.
Seasonal board warehouse employee Eric LaPlante on April 23 claimed that he saw a text from Mr. Stainbrook to Mr. Sanford telling him, in effect, "work slowly as possible and do not report any errors."
Mr. LaPlante said he saw the text "a day or two after" Stainbrook ally Meghan Gallagher was fired as director, which occurred on March 4.
The accusation was one of many anecdotes of dysfunction that emerged during two lengthy days of hearings conducted last month by a "transparency committee" appointed by Ohio Secretary of State Jon Husted.
Mr. Stainbrook's cell phone Verizon account shows a text between him and Mr. Sanford on Feb. 24 and two more on March 11, but none in between. Mr. Stainbrook said he has no other cell phones.
A Blade phone interview with Mr. Sanford suggests that Mr. Sanford's cell phone records also won't substantiate the board's suspicions.
Mr. Sanford said he never received such an instruction from Mr. Stainbrook, but said he's willing to share his phone records with the board. He said it will take a couple of weeks to get his records from Sprint.
"My records would be the same as Jon's," said Mr. Sanford, 25, who worked seasonally prepping voting machines, until he was fired recently for talking to his wife on his cell phone.
He said the only orders to work slowly that he received came from full-time employees.
"They told us to work as slow as possible — to not kill the job," Mr. Sanford said.
Mr. Sanford said the accusation was made by someone who was hoping to avoid getting caught in a feared wholesale firing of Mr. Stainbrook's allies after Ms. Gallagher's term as director was not renewed.
The Blade was not able to read the March 11 text because it was no longer on Mr. Stainbrook's phone.
And Mr. Sanford said his texts from that period are long gone because he sends so many text messages.
Mr. Stainbrook said the allegation is false and blamed it on a desire by others to see him lose his re-election bid on Tuesday to the Republican State Central Committee. Mr. Stainbrook is being challenged by former Toledo tavern owner Bill Delaney.
Contact Tom Troy: tomtroy@theblade.com or 419--724-6058 or an Twitter @TomFTroy.
Guidelines: Please keep your comments smart and civil. Don't attack other readers personally, and keep your language decent. Comments that violate these standards, or our privacy statement or visitor's agreement, are subject to being removed and commenters are subject to being banned. To post comments, you must be a registered user on toledoblade.com. To find out more, please visit the FAQ.