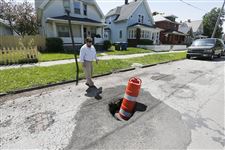 City Councilman Mike Craig points out a sink hole in the 700 block of Leonard Street near Prentice Park. Mr. Craig wants significantly more money for street repair for his council District 2.
THE BLADE/JETTA FRASER
Enlarge | Buy This Image
Many streets in Mike Craig's City Council district, covering East Toledo and the South End neighborhood, are among Toledo's oldest and were originally paved in cobblestones or brick.
During the years, the older surface was simply paved over. Now on streets such as Morrison Drive, Valleywood Drive, Prentice Street, and Leonard Street, the bricks are emerging through the blacktop after untold years of deferred maintenance.
Those are the streets, Mr. Craig said Monday, that clearly would benefit from a basic repaving. Not rebuilding, because the old pavements beneath are generally in good shape, but just repaving, he said while leading a tour through parts of his district.
"This school's turning 100 this year, and it looks better than the street, which is only 20 years old," Mr. Craig said while surveying Morrison in front of Waite High School.
Along with colleague Lindsay Webb from District 6, representing Point Place and North Toledo, Mr. Craig is protesting the Collins administration's street paving and reconstruction plan for this year because of unequal project distribution among the six city council districts.
Mr. Craig contends that his district in particular has been chronically shortchanged, with a share of street projects approaching the citywide average only once — last year — during his eight years on council. Mr. Craig said he plans to speak up today when council resumes deliberations over Toledo's capital budget.
Except for a very short stretch of street restoration related to a utility project, the only street repair planned in Mr. Craig's district this year is a resurfacing of Fassett Street and Stillman Avenue from a bridge over Norfolk Southern railroad tracks to East Broadway.
That accounts for 0.62 mile of the 39.15 miles of streets the Collins administration has proposed to rebuild or repave across Toledo at a total cost of $35.2 million, including $12 million in city capital-improvement funds and $23 million in state and federal grants that generally can be used only for major streets.
Fassett and Stillman, which for practical purposes are the same two-lane street on either side of a modest curve, are in plain need of the work, especially in front of the Weiler Homes and Spieker Terrace housing complexes.
But South Avenue between Sumner Street and Kuhlman Drive, with its patches upon patches over holes in failing concrete pavement, is similarly deserving, Mr. Craig said.
Other streets in the neighborhoods may only be bad for a block — "or one or two blocks out of eight" — but those blocks need work, he said.
One such block is in front of Ashley Sullivan's Leonard Street home, where exposed brick resembles unplaced pieces in a blacktop jigsaw puzzle. Punctuating the street's rundown condition is a sewer collapse hole, where both the older bricks and the newer asphalt pavement are both caving in.
For now, it's marked by a solitary orange construction barrel jammed into the hole. "Oh, yeah, the streets are bad over here," Ms. Sullivan said.
Lisa Ward, Mayor Collins' spokesman, said last week that street-repair choices are based strictly on condition assessments, not city geography.
"We try to do some in every district, but it is a situation where it is never going to be equitable," she said.
Contact David Patch at: dpatch@theblade.com or 419-724-6094.
Guidelines: Please keep your comments smart and civil. Don't attack other readers personally, and keep your language decent. Comments that violate these standards, or our privacy statement or visitor's agreement, are subject to being removed and commenters are subject to being banned. To post comments, you must be a registered user on toledoblade.com. To find out more, please visit the FAQ.