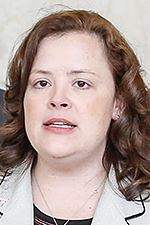 Webb
THE BLADE/KATIE RAUSCH
Enlarge | Buy This Image
Toledo Councilman Lindsay Webb helped launch a two-day, six-city tour, gathering leaders from various areas of Ohio to rally against Gov. John Kasich's 2011 budget cuts.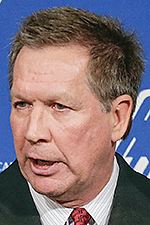 Kasich
ASSOCIATED PRESS Enlarge
"Each jurisdiction has made decisions [on] how to deal with the cuts," Ms. Webb said. "If we can get our local government fund back, we would be in a much better place to tackle some of the infrastructure problems we are experiencing, because over the past two years the cuts to the local government fund have equaled $13 million for the city of Toledo. ... We have all been impacted."
The "Stop the Kasich Raid," tour began Thursday with news conferences in Dayton and Cincinnati.
It stopped in Toledo at 8:45 a.m. Friday before making stops in Cleveland, Youngstown, and Akron.
P.G. Sittenfeld, a Cincinnati councilman and tour organizer, said cuts to the local government fund during the most recent state budget affected firefighter and police staffing.
"We have weathered and endured the series of cuts," Mr. Sittenfeld said. "We continue to have fire brown-outs, where we don't have enough people to run our fire equipment." He said the state has "taken more than a billion from local communities across the state."
On Thursday, at the "browned-out" Fire Station No. 19 in Cincinnati, Mr. Sittenfeld was joined by Hamilton County Auditor Dusty Rhodes, Cincinnati Fire Local 48 President Matt Alter, and President of the Fraternal Order of Police Kathy Harrell.
In the wake of the budget cuts, Toledo has been forced to use money from the capital improvements budget to pay for daily operations, such as police and fire salaries. This year, Mayor D. Michael Collins and council approved transferring $14 million out of the capital improvements budget.
Ms. Webb and Mr. Sittenfeld were joined Friday by Toledo Councilman Steven Steel, Toledo Police Patrolman's Association President Dan Wagner, Toledo Firefighters Local 92 Vice President Dan Desmond, Lake Township Police Chief Mark Hummer, and Maumee Councilman John Boellner.
Ms. Webb and Mr. Sittenfeld denied the tour was politically motivated or meant to be a show of support for Democratic Cuyahoga County Executive Ed FitzGerald, who will oppose the Republican governor on Election Day.
Chris Schrimpf, Ohio Republican Party spokesman, said the state's economic recovery is yielding benefits for local governments.
"Claims of widespread budget difficulties in local governments are not supported by the facts," Mr. Schrimpf said. "Income and sales tax revenues are up across the state, and many local governments are enjoying surpluses larger than the state's rainy-day fund on a proportional basis."
Contact Ignazio Messina at: imessina@theblade.com or 419-724-6171 or on Twitter @IgnazioMessina.
Guidelines: Please keep your comments smart and civil. Don't attack other readers personally, and keep your language decent. Comments that violate these standards, or our privacy statement or visitor's agreement, are subject to being removed and commenters are subject to being banned. To post comments, you must be a registered user on toledoblade.com. To find out more, please visit the FAQ.