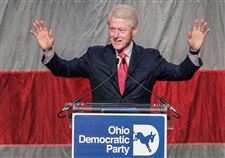 Bill Clinton told state Democratic Party leaders that they have to give voters a reason to show up at the polls. He spoke at Friday's fund-raiser in Columbus.
ASSOCIATED PRESS Enlarge
COLUMBUS — Republicans have been engaged in a nationwide effort to suppress the vote, but Democrats have to give voters a reason to show up at the polls when the courts strike down those efforts, former President Bill Clinton told his party's Ohio leaders Friday night.
"Would you rather have a governor who wants to shift the tax burden onto the middle class, has aggressively pushed this voter-suppression agenda, and done a variety of other things, or one who was an FBI agent, a mayor, a county executive ...?" he asked, holding up a sheet of paper as if it were a resume.
"I'd vote for Ed FitzGerald for governor based on the fact that it's a job," he said. "I read the resume."
Bemoaning the low election turnout of 2010 that saw the narrow defeat of Democratic Gov. Ted Strickland, he said the party has to make the case that midterm elections matter just as much as presidential elections.
"[Republicans] want to make every presidential election look more like the mid-term election by restricting the electorate, and if at all possible, want to restrict the midterm elections even more," he said. He was referring to Republican-passed legislation that, among other things, has reduced early and absentee voting days.
"... If our candidates have a clear strategy of what they are for, an honest and nonexaggerated contrast of what they're for and what their opponents are for, and we get the same turnout we got two years ago, you know good and well the Democratic Party will be celebrating on election night, and so do our opponents, which is why they're trying to make sure it can't happen," Mr. Clinton said.
The party has to convince voters that it is the one for climbing the ladder of economic success, equal pay, equal marriage, a higher minimum wage, and a reduced carbon pollution game plan that helps coal country the way the country helped tobacco country when it cracked down on that product.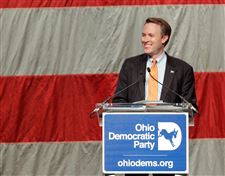 Ohio gubernatorial candidate Ed FitzGerald speaks at the Ohio Democratic Party annual fund-raising dinner Friday in Columbus. He urged those in the crowd to emerge from the dinner as a united, exuberant party.
ASSOCIATED PRESS Enlarge
Ohio Republican Party spokesman Chris Schrimpf said it's "far easier" to vote in Ohio than in Mr. Clinton's state of New York.
"The Democrats' problem is there is no reason for their voters to go to the polls," he said. "The top of their ticket has been a disaster while voters recognize that our state has been getting better nearly every day under Governor Kasich's leadership. There's a reason Clinton barely mentioned FitzGerald and never named Governor Kasich. He knows that Governor Kasich has turned Ohio around."
The Clinton fund-raising machine touched down in Columbus to infuse cash — and possibly some energy — into the campaigns of Democratic statewide candidates, all of whom lag, in some cases badly, behind the bank balances of their Republican incumbent opponents.
Campaign finance reports filed a few hours earlier showed Mr. FitzGerald had $1.9 million in cash in the bank compared to $9.3 million for Republican Governor Kasich.
"Middle class wages are stagnant," Mr. Clinton said. "Poverty is rising. The size of the work force is shrinking. Your governor brags about Ohio's unemployment rate dropping when all of the analysis shows that 50 percent of the drop or more is due to the people dropping out of the work force, so they're not counted as unemployed."
Attendees paid for tickets ranging from $100 per plate for a young Democrat to the $2,500 platinum level for a table for 10 with four tickets to a private reception with Mr. Clinton.
"Who better to talk about the challenges middle-class Americans and Ohioans face and why it's important to stand up for those families?" Ohio Democratic Party Chairman Chris Redfern said. "... It's not a theme for the campaign. It's a theme for the party."
Mr. FitzGerald characterized Mr. Kasich and fellow Republicans who won statewide office in 2010 as "radical right-wing" politicians as he urged those in the crowd to emerge from last night's dinner as a united, exuberant party.
"What we have is a government by John Kasich and his wealthy friends for John Kasich and his wealthy friends, and it's going to be replaced this November ... by a governor that's as good as the people of Ohio themselves," he told the crowd.
The former president is proving far more popular as a campaign fund-raiser this year than President Obama and his low approval rating, but Mr. Redfern said he welcomes and expects Mr. Obama, the First Lady, and former Secretary of State Hillary Clinton to campaign for Mr. FitzGerald this year.
Contact Jim Provance at: jprovance@theblade.com or 614-221-0496.
Guidelines: Please keep your comments smart and civil. Don't attack other readers personally, and keep your language decent. Comments that violate these standards, or our privacy statement or visitor's agreement, are subject to being removed and commenters are subject to being banned. To post comments, you must be a registered user on toledoblade.com. To find out more, please visit the FAQ.