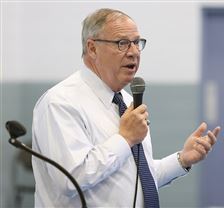 Toledo Mayor D. Michael Collins promised constituents a cleaner city by the end of his term or he would not run for the office again.
THE BLADE/JEREMY WADSWORTH
Enlarge | Buy This Image
Toledo Mayor D. Michael Collins vowed a cleaner city by the end of his current term, or he won't be on the ballot, he said in a well-attended town hall meeting at the East Toledo Family Center on Wednesday night.
"If, in four years, the city of Toledo doesn'‍t look different than it does today, then I will never again ask for the opportunity to be your mayor because I will have let you down," Mr. Collins said during an informal hourlong session that touched on blight, heroin addiction, his plans for revamping police department patrols, beautification of Main Street, and East Toledo's favorite complaint, the inactivity of the Marina District.
The mayor started out admitting that East Toledo got stiffed on the capital-improvements budget for street repairs, and said that situation conflicted with the campaign promise he made when he ran for mayor against then-Mayor Mike Bell to make sure the "05" ZIP Code got its fair share.
PHOTO GALLERY: East Toledo town hall meeting with Mayor Collins
"I owe you an apology and you didn't get fairly treated in the road projects," Mr. Collins said. He said the engineering was done when he inherited the budget, but promised to make it up to East Toledo in the following three years.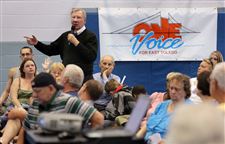 Stan Sagan, owner of Anigames at 101 Main St., asks Mayor D. Michael Collins about crime during a meeting Wednesday at the East Toledo Family Center.
THE BLADE/JEREMY WADSWORTH
Enlarge | Buy This Image
"I truly felt it was a great representation of East Toledo, and it was significant the community came out in the numbers they did. While we weren'‍t able to answer all of the questions, I think we had a dialogue and they know the future of East Toledo is not going to be considered an after-thought," he said after the meeting.
About 140 people attended the event.
Mr. Collins said that the owners of the Marina District have been promising to have a meeting with him since February and have yet to make good. And if he doesn't get some assurance by fall that development is going to happen, he's going to tell the law department to notify the owners that the city intends to start marketing the property to new commercial developers.
"We're going to recover that property for $3.8 million. It will be a seamless transition of owners," he said.
Dashing Pacific Group bought the Marina District in July, 2011, and the city can buy it back between July 1, 2016, and July 1, 2017, if there hasn't been "substantial" development, according to the purchase agreement.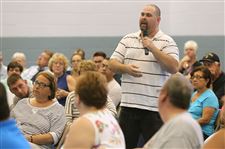 Rob Barron asks about a blighted property in his neighborhood on Church Street during a town hall meeting with the mayor on Wednesday.
THE BLADE/JEREMY WADSWORTH
Enlarge | Buy This Image
The mayor responded to about a dozen questions, but one questioner left frustrated that he had not heard her complaint about a heroin-addicted neighbor who had attacked his neighbors as recently as Saturday night and continued to make threats. Of Mr. Collins, she said, "he doesn'‍t have a plan for crime in place."
In fact, Mr. Collins gave a detailed explanation of his plan for "beat integrity," which involves assigning officers long-term to particular neighborhoods. Mr. Collins said crime and heroin addiction are "epidemic," and said the crime won'‍t subside until employment increases.
"Jobs will fix a lot of this. My emphasis has to be on creating opportunities for employment," Mr. Collins said.
Contact Tom Troy: tomtroy@theblade.com or 419--724-6058 or an Twitter @TomFTroy.
Guidelines: Please keep your comments smart and civil. Don't attack other readers personally, and keep your language decent. Comments that violate these standards, or our privacy statement or visitor's agreement, are subject to being removed and commenters are subject to being banned. To post comments, you must be a registered user on toledoblade.com. To find out more, please visit the FAQ.