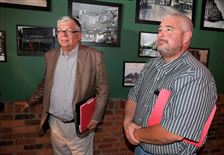 Jim Hartley, left, of Sylvania and Mike Palumbo of Whitehouse were nominated Wednesday but were not elected to represent the Lucas County Republican Party on the county Board of Elections.
THE BLADE/JEREMY WADSWORTH
Enlarge | Buy This Image
Rather than nominate two new candidates with no political baggage, the Lucas County Republican Party's executive committee Wednesday night opted to go to court to force the Ohio secretary of state to accept their original picks for two county Board of Elections vacancies.
Party Chairman Jon Stainbrook said the committee voted unanimously to file for a writ of mandamus from the Ohio Supreme Court.
"It was a reaffirmation of Ben Roberts and Kelly Bensman," Mr. Stainbrook said of the vote after the meeting. "This committee solidly feels these two people are professional, they're qualified, and these two people should sit on the board of elections."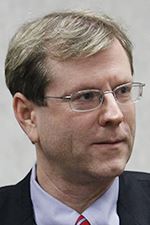 Stainbrook
THE BLADE
Enlarge | Buy This Image
He said the committee was given the option of offering up two new nominees, both of whom attended the meeting in the Main Street Grill in East Toledo, but chose to fight Republican Secretary of State Jon Husted in court.
The two would-be replacement nominees were James Hartley, 60, of Sylvania, a retired association executive, and Michael Palumbo, 46, of Whitehouse, a truck driver. Both are members of the county's GOP central committee.
Mr. Husted last week rejected Mr. Roberts and Ms. Bensman because, he said, they were too involved in the activities that contributed to the dysfunctional office environment that caused him to remove three board members on June 5.
Mr. Husted was not available Wednesday night for a comment, his spokesman Matt McClellan said.
Mr. Stainbrook blamed Mr. Husted for the dispute and said he should accept the party's choices as he has done in almost all other county election board appointments.
"Nobody wants this, but it has gotten here because of the rigidity of the secretary of state. We should be fighting Democrats. It's very unfortunate," Mr. Stainbrook said. "It's puzzling to know why the secretary of state is picking on Lucas County."
Mr. Husted removed Mr. Stainbrook, fellow Republican Tony DeGidio, and Democrat Ron Rothenbuhler from the elections board June 5, adding that he would not accept replacement nominees who were "tied to the problems of the past."
Both Mr. Roberts, 45, a management consultant from Maumee, and Ms. Bensman, 37, an environmental consultant from Toledo, have been involved in the sometimes-heated policy and partisan disputes revolving around the elections board as close allies of Mr. Stainbrook.
State law requires the secretary of state to appoint a party's nominee unless he deems the person to be incompetent for the job. State law also allows the county party to take their case to the state supreme court when there is a dispute over a board of elections vacancy
The Lucas County Democratic Party has nominated retired teacher and former school board member Brenda Hill to replace Mr. Rothenbuhler. Mr. Husted has not acted on her nomination.
A rival organization of Lucas County Republicans headed by David Kissinger of Maumee on Monday night recommended retired Judge Peter Handwork and former elections board member Patrick Kriner. However, a spokesman for Mr. Husted said he must work with Mr. Stainbrook's committee because it is the officially recognized county party.
Contact Tom Troy: tomtroy@theblade.com or 419--724-6058 or an Twitter @TomFTroy.
Guidelines: Please keep your comments smart and civil. Don't attack other readers personally, and keep your language decent. Comments that violate these standards, or our privacy statement or visitor's agreement, are subject to being removed and commenters are subject to being banned. To post comments, you must be a registered user on toledoblade.com. To find out more, please visit the FAQ.