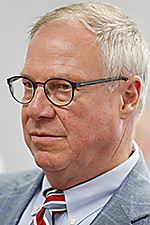 Collins
THE BLADE
Enlarge | Buy This Image
The Collins administration wants to ask voters for a variety of changes in the city charter, including an increase in the amount the mayor can spend without council's prior approval, from $10,000 to $20,000.
And the mayor has asked council to approve new pay ranges for directors, commissioners, and managers, allowing raises of up to 25 percent.
Both issues were debated in council'‍s biweekly agenda review session Tuesday.
Because the $20,000 provision is likely to be controversial, it is being handled separately from the rest of the proposed charter changes, Mayor Collins said. He said the suggestion was made by his directors and commissioners to make Toledo's spending restriction comparable to some other Ohio cities.
Councilman Steven Steel said the intent seems to be to avoid council scrutiny.
"It just makes it easier to get around council. It's easier to break up $100,000 in five increments than 10," Mr. Steel said. "If Collins was on council now how do you think he'd vote? There's no way he'd approve it."
When he was a councilman, Mr. Collins ferreted out that then-Mayor Carty Finkbeiner was quietly spending money in less-than-$10,000 chunks on improvements to the Erie Street Market.
Council President Paula Hicks-Hudson said, "I need to understand what the problem is we're trying to solve."
The administration's proposal to raise the salary ranges of top employees is aimed at attracting and keeping managerial talent, Mr. Collins said.
"It'‍s to give us flexibility. We have lost employees, probably four, because we can't compete with their pay," Mr. Collins said. "I have no intention of giving anybody a 25 percent raise."
For directors, those in the E-4 salary group, the pay scales would rise from a maximum of $92,500 to as much as $115,625.
The current ranges are $48,500 to $68,500 for those in the E-1 salary group, $52,000 to $77,500 in the E-2 group, $54,000 to $80,000 in the E-3 group, and $60,500 to $92,500 in the E-4 group. The new ranges would be $60,625 to $85,625 in the E-1 group, $65,000 to $96,875 in the E-2 group, $67,500 to $100,000 for the E-3 group, and $75,625 to $115,625 for the E-4 group.
The E-4 group includes the chief of staff, assistant chief of staff, directors and the mayor'‍s executive assistant. Commissioners are in the E-2 category. Council previously has established separate pay ranges for the director of development and fire and police deputy chiefs.
In addition to boosting the ranges, the ordinance would index top employees' wage scales to the pay raises that are negotiated for unionized fire chiefs, which means the ranges would no longer have to be determined in a separate ordinance.
Contact Tom Troy: tomtroy@theblade.com or 419--724-6058 or an Twitter @TomFTroy.
Guidelines: Please keep your comments smart and civil. Don't attack other readers personally, and keep your language decent. Comments that violate these standards, or our privacy statement or visitor's agreement, are subject to being removed and commenters are subject to being banned. To post comments, you must be a registered user on toledoblade.com. To find out more, please visit the FAQ.