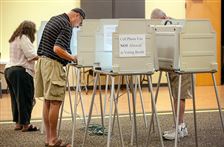 Gary Merkel casts his ballot at the Bedford Branch Library.
THE BLADE/AMY E. VOIGT
Enlarge | Buy This Image
TEMPERANCE — Voters rejected a request for a new library levy in Bedford Township Tuesday that would have cost a typical homeowner an additional $22 per year, based on the average $175,000 value of a Bedford home.
The defeat of the proposed 0.25-mill request means the Bedford Branch Library has no steady revenue stream for running the library building at 8575 Jackman Rd. and for capital improvements such as repaving the parking lot or replacing 10-year-old boilers. The millage would have raised $245,000 annually for five years.
The Monroe County Library System provides materials for the library and pays for equipment and librarians. Township taxpayers cover the cost of the library building's expenses, most recently through a 0.75-mill levy that expired in 2012.
PHOTO GALLERY: Primary voting in Bedford
Jodi Russ, Bedford's community librarian, said the library's advisory board and township board would would have to meet and decide what the next step should be. She did not rule out another request in November.
"We have reserves, so we're not going to be closing our doors," she explained. She believed the library did not get its campaign going early enough, and that absentee voters cast their ballots with incomplete information.
Tuesday was primary day in Michigan, and Monroe County had a host of mostly uncontested candidates to consider for party nominations for the Nov. 4 election.
In the contested race for the Republican nomination for the Michigan 56th House District seat, county commissioner Jason Sheppard of Temperance was headed toward a win over Ida resident Irma Kubiske with 58 percent of the votes counted. The winner will face Democrat Tom Redmond in November.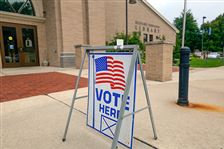 A sign in front of the Bedford Branch Library identifies it as a polling station for the Michigan primary Tuesday.
THE BLADE/AMY E. VOIGT
Enlarge | Buy This Image
In LaSalle Township, a 0.5-mill tax for fire protection passed. A Mason school district request for a six-year, 2-mill sinking fund levy for maintenance and improvements was narrowly winning with half of the votes counted.
Lenawee County residents voted to renew a senior citizen levy that will provide 0.482 mills from 2014 through 2020 and generate $1.5 million in its first year. The money will go towards funding senior centers and providing meals and other services.
With 88.4 percent of precincts reporting late Tuesday, the levy was winning with 77.8 percent of the vote. It will benefit seven senior citizen centers, which provide services to residents age 60 and older.
The election also decided the fate of other funding initiatives for townships, schools, and libraries.
After a 15-vote defeat in May, a five-year, 1-mill sinking fund tax levy for Britton Deerfield Schools was defeated by an even narrower margin. The measure lost by six votes with 254 voting against and 248 voting in favor. The levy would have generated about $164,000 a year and cost the owner of a $100,000 home $50 a year.
The money would have been used for repairing parking lots and damaged roofs as well as other maintenance needs, and upgrading the school's security systems.
Incumbent H. Edwin Branch claimed victory over challenger John D. Lapham by with 61 percent of the vote to Mr. Lapham's 38 percent in the Lenawee County District 2 Republican primary for county commissioner. Democrat Paul Delezenne ran unopposed and gained the nomination with no contest.
Voters approved a 10-year, 0.75-mill tax for the Carnegie Hudson District Library system by a margin of 52.5 percent to 47.5 percent, and it is expected to raise $105,000 in its first year to fund library operations, programs, and new books. While the library previously received funding from the city of Hudson it is now transitioning to a district system supported by its own millage.
Clinton Township voters chose 58 percent to 42 percent to approve an eight-year road millage request of up to 1 mill to maintain Clinton Township and village of Clinton roads.
In the Charter Township of Madison, a four-year, 1-mill initiative for additional police personnel and equipment passed with 55.5 percent support.
And in Palmyra Township, voters renewed a 1-mill fire department levy to last through 2017 with 66 percent of the vote and narrowly rejected a 0.2-mill increase for 2014 and 2015 that would have covered cemetery improvements and operations.
Contact Carl Ryan at: carlryan@theblade.com or 419-724-6095.
Guidelines: Please keep your comments smart and civil. Don't attack other readers personally, and keep your language decent. Comments that violate these standards, or our privacy statement or visitor's agreement, are subject to being removed and commenters are subject to being banned. To post comments, you must be a registered user on toledoblade.com. To find out more, please visit the FAQ.