Ohio Gov. John Kasich delivers the State of the State address at the Peoples Bank Theatre on Wednesday in Marietta, Ohio.
ASSOCIATED PRESS Enlarge
MARIETTA, Ohio — Gov. John Kasich sketched a picture of an Ohio that is rebounding under his leadership, a record he is using to try to win the Republican presidential nomination, in his sixth State of the State address on Wednesday.
''The outlook is bright and hopeful again here in the Buckeye State," Mr. Kasich said during his 55-minute address.
''Our budget is sound, we've got $2 billion in the bank," he said, including 417,000 new private sector jobs. He said wages in Ohio are growing faster than the national average.
He said 94 percent of third graders passed the reading guarantee, even with higher standards. He encouraged lawmakers to send their constituents looking for career growth to the OhioMeansJobs website.
The Republican governor and former congressman spoke from the stage of the quaint Peoples Bank Theatre in downtown Marietta, a continuation of a practice he started five years ago. The governor, who has been criticized for meandering, undisciplined speeches in the past, largely relied on the printed speech on his lectern.
Marietta appeared to be largely given over to the ''State of the State" event. Numerous meetings and events were held during the day, attended by Mr. Kasich's cabinet. The 200 block of Putnam street in front of the theater was closed to traffic.
Protesters chanted and waved signs at the end of the block where they believed Mr. Kasich would be most likely to enter the theater.
''He continues to cut and cut from public education and support his charter school system that we see from the nightly news is a farce," said Lois Carson, state vice president of the Ohio Association of Public School Employees union.
Mr. Kasich didn't allude directly to his campaign for the presidency, in which he trails rivals Donald Trump and Ted Cruz. However, he made several references to traveling around the country.
In a statement before the speech, the Ohio Democratic Party said their perception of Ohio does not match Mr. Kasich's rosy picture.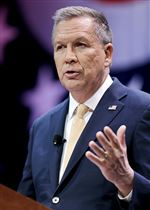 Gov. John Kasich spoke on many topics, including the tax cuts made under his time in office and his plans to accelerate new ones.
ASSOCIATED PRESS Enlarge
The Democrats assailed the $350,000 cost to Ohioans for his out-of-state campaigning, and said that Ohio's job growth has trailed the national average for 39 straight months.
''John Kasich can keep pretending he's different from Donald Trump and Ted Cruz, but the fact is that his governorship has been a failure, and his policies have always been just as extreme as the rest of his party," spokesman T.J. Helmstetter said.
The Ohio Republican Party, which has endorsed Mr. Kasich's presidential ambitions, issued a statement echoing the governor's claims about the state's budget and employment recovery since the Great Recession, which occurred under his Democratic predecessor, Ted Strickland.
"There is no denying that under Governor Kasich's leadership, Ohio has turned around and is much stronger today," state GOP Chairman Matt Borges said.
The governor, who has been absent from Ohio much of the last nine months, sketched the picture of a state that is using educational policy and tax reform, among other tools, to continue improving the state's economy and quality of life.
''We are a model of what should happen in this country and the country would be wise to adopt our model," Mr. Kasich said, referring specifically to the bipartisan task force he appointed to plan new standards for the use of deadly force by police.
Noting the 228th anniversary of the founding of the frontier community of Marietta, he said Ohio that had lost some of its pioneering spirit by the time he became governor in 2011.
''Sadly, over time we kind of lost that edge, a world that seemed to be moving on without us. Ohio wasn't always able to hold itself up as America's model," he said.
"As you know I've done bit of traveling and I've met people who've been struggling with some of the same challenges we've struggled with here in our beloved state," Mr. Kasich said.
Mr. Kasich charted some of the reforms he said he has tried to implement in education, including the Third-Grade Reading Guarantee, his goal of elevating the roles of high school guidance counselors, and an ongoing attempt to force colleges to reduce their costs.
He warned Ohio's four-year colleges that many of them will be nothing more than a memory if they don't address the cost challenge.
An example of universities saving students' money was the University of Toledo and Bowling Green State University jointly offering programs that have low enrollment, he said.
Mr. Kasich, saying he cut income taxes $5 billion during his tenure, vowed to ask the legislature to "accelerate" the 6.23-percent tax cuts enacted last year by reducing withholding to speed tax savings to workers. He promised a new comprehensive tax cut plan for the next biennial budget.
Contact Tom Troy: tomtroy@theblade.com or 419-724-6058 or on Twitter @TomFTroy.
Guidelines: Please keep your comments smart and civil. Don't attack other readers personally, and keep your language decent. Comments that violate these standards, or our privacy statement or visitor's agreement, are subject to being removed and commenters are subject to being banned. To post comments, you must be a registered user on toledoblade.com. To find out more, please visit the FAQ.