Algae along the Lake Erie shoreline.
THE BLADE
Enlarge | Buy This Image
Designating the Lake Erie watershed as impaired could have little or no effect on algal blooms, but it would have a massive, nearly insurmountable financial impact on the city of Toledo, said a municipal lawyer tasked by Mayor Paula Hicks-Hudson with studying the issue.
"The extreme case example is $2 billion — that's billion, with a 'b' — because you'd need a new sewer plant and a whole lot of new infrastructure," said Joe McNamara, a former city councilman who now works for the city as an attorney.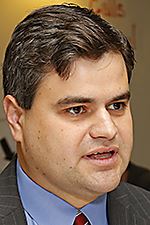 McNamara
THE BLADE
Enlarge | Buy This Image
"The mayor has not made a decision on whether or not the western Lake Erie basin should be declared impaired, but she does want the issue explored," Mr. McNamara said. "That is the reason the city is looking at bringing in some kind of expert about [total maximum daily loads]," which is a restrictive nutrient-limiting program.
Two-time mayoral candidate Mike Ferner, along with other local environmental activists, have for months implored Mayor Hicks-Hudson and council to support them in their efforts to get state and federal authorities to declare the 4-million-acre western Lake Erie watershed impaired.
Mr. Ferner and others who want the U.S. Environmental Protection Agency to designate the western Lake Erie region impaired as defined under the federal Clean Water Act say it would make the region eligible for more federal money.
On Jan. 26, all three Lucas County commissioners told Toledo City Council they should support the effort. During that same meeting, Councilman Peter Ujvagi, formerly a Lucas County administrator, urged his fellow councilmen to pursue the impairment status as part of a multitrack strategy against toxic algae, saying they "need to acknowledge the problem, and we need to act on it as soon as possible."
Oregon Administrator Mike Beazley said Oregon City Council likewise approved a resolution urging for the designation on Feb. 22, shortly after the commissioners approved such a resolution.
"We know our water and sewer plants are going to be held to a higher standard no matter what but thought we had to take some steps toward this," Mr. Beazley said.
"We are being held to a higher standard now every year, and we are also under greater scrutiny every year," he said. "It is our sense that treatment plants are a very small part of the problem and that it is agriculture runoff and animal waste, but we are the only folks getting heavily-regulated now."
Sandy Bihn, Lake Erie Waterkeeper executive director and an Oregon councilman, said she does not think Toledo would be hit so hard. She said Oregon has a wastewater plant and officially supports an impaired designation for the Lake Erie watershed.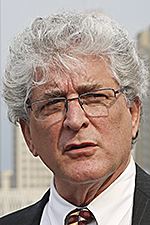 Ferner
THE BLADE
Enlarge | Buy This Image
Mr. McNamara however said slashing discharges from Toledo's sewer plant to nothing would have no effect on algal blooms.
"More than 75 percent of the phosphorus load is coming from nonpoint sources, so you could shut down potentially every point source of phosphorus and you would still get algal blooms," he said. "If you magically transported Toledo to California, you would still have algal blooms so this is potentially the wrong tool for the job."
Sewer plants are considered point sources and the Clean Water Act [of 1972] has "no direct regulation over the nonpoint sources such as agriculture," Mr. McNamara said.
Mayor Hicks-Hudson intended to have an expert on total maximum daily loads report his findings to council last week but that was scrapped after environmentalists, including Mr. Ferner, said that the firm he works for was accused of being pro-agriculture and chastised for using weak science by an independent review panel in 2011.
As a result, David Dilks, vice president Ann Arbor-based LimnoTech, Inc., did not appear before council as planned. However, his report solicited by the mayor, which was obtained by The Blade, said there is a "need for a 40 percent reduction in phosphorus load to the lake."
Mr. McNamara said cutting Toledo sewage discharge to zero would not come close to reducing 40 percent of the phosphorus load.
The Toledo Waterways Initiative — a $521 million overhaul of the city's sewage plant near Cullen Park in Toledo's Point Place, as well as the collection of pipes and pumps throughout the metro area that are connected to it — began in 2002. It was the result of the agreement the city reached with the U.S. EPA after years of untreated sewage releases.
"It will cost $521 million to eliminate 80 percent of the average volume of combined sewer overflow by 2020," Mr. McNamara said. "The closer we get to zero of any pollutant the cost goes up exponentially."
He said Mayor Hicks-Hudson now wants a different expert to report to council.
"Dr. Dilks wrote a report and was going to do a presentation to council why a TMDL wouldn't actually clean up the lake," Mr. McNamara said. "We want to reschedule a meeting and bring in a different expert. ... This issue hasn't been covered well and there is more information that needs to be reported."
Karl Gebhardt, deputy director for water resources for the Ohio Environmental Protection Agency, also on Jan. 26, told Toledo council that there is no regulation for nonpoint sources with a total maximum daily load. He said Toledo would feel the brunt of a total maximum daily load because the Clean Water Act does not regulate nonpoint sources.
"So guess who will be regulated? The point sources," Mr. Gebhardt said. "Your waste water treatment plant right now is doing a very good job. You are discharging at a 0.57 parts per million of phosphorus. Who is going to be regulated if we need to reduce phosphorus under a TMDL Lake Erie?"
Mr. Ferner said he is undeterred by Mr. McNamara's assertion.
"That's ridiculous," he said. "No one can say what the impact to the city would be because we have not done a TMDL. ... The agricultural operations, including a concentrated animal-feeding operation, would be affected."
Contact Ignazio Messina at: imessina@theblade.com or 419-724-6171 or on Twitter @IgnazioMessina.
Guidelines: Please keep your comments smart and civil. Don't attack other readers personally, and keep your language decent. Comments that violate these standards, or our privacy statement or visitor's agreement, are subject to being removed and commenters are subject to being banned. To post comments, you must be a registered user on toledoblade.com. To find out more, please visit the FAQ.