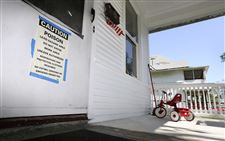 A lead hazard sign is posted on a home on Putnam Street in Toledo. The home is undergoing a lead abatement process.
THE BLADE/DAVE ZAPOTOSKY
Enlarge | Buy This Image
Toledo City Council will soon consider a new measure to require rental properties to be safe of lead hazards, one that proponents say addresses a problem threatening thousands of local children living in older rental units.
The proposal, which is expected to go before Toledo City Council on June 14, would require rental properties built before 1978 to be deemed safe from lead hazards before they can be rented out to tenants.
A list of certified lead-safe rental properties would be available to the public, as would a list of properties out of compliance.
A registry of lead-safe rental locations in Toledo would be welcomed by parents like Britnay Slay, 25, whose son, Dre'velle Slay, 3, tested positive for elevated blood lead levels. Investigators determined he was exposed at his great-grandmother's house.
RELATED CONTENT: Draft of lead-safe rental ordinance
The grandmother's house is now undergoing abatement orders. Her son is an active toddler, and Ms. Slay said she wonders if he is presenting signs of the lead poisoning or if it's just him being a 3-year-old boy. She said she now checks all the places he spends time for hazards such as chipping paint. She also religiously washes the boy's hands to reduce his risk of ingesting lead paint dust.
Ms. Slay's home, which she rents, was not found to have lead risks, but said she "definitely" would support a registry of lead safe properties. Should she choose to move, it could help find a place that is safe for Dre'velle.
"They shouldn't be renting their property out if they have lead," she said of landlords.
A draft copy of the proposed legislation, provided to The Blade through a public records request, focuses on properties built before 1978, the year the federal government banned lead-based paint for residential use.
Under the draft ordinance, the Toledo-Lucas County Health Department would be the primary supervising agency for registration and enforcement. Owners or agents of owners would be required to apply for a "Lead-Safe Certificate" and submit a $45 filing fee.
A passing certificate would require a visual inspection to look for hazards such as deteriorating paint, paint chips, or exposed soil. Samples collected from dust wipes would be tested for lead content.
Properties found to have lead hazards could get a passing certificate if owners correctly implemented interim controls — temporary measures that diminish lead risks. Those include painting over lead paint, wiping dusty surfaces, and covering exposed soil.
Local lead inspectors would have to register with the health department before doing any inspections. Property owners and their employees could be trained and certified by the health department to do lead clearance, maintenance, and repair activities.
The ordinance calls for a grant program through the health department to be created for property owners to offset costs of clearing lead hazards.
Lead-safe certificates would need to be renewed every four years for properties that use interim controls, or every 20 years for properties that have undergone lead abatement procedures.
City spokesman Janet Schroeder said specifics in the draft could change before it goes to city council.
Lead-based paint crisis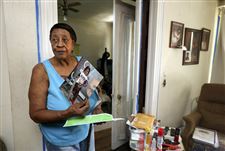 Gloria Johnson holds a photo of her great-grandchild, Dre'velle Slay, 3, at her home on Putnam Street in Toledo. Dre'velle has been diagnosed with lead poisoning.
THE BLADE/DAVE ZAPOTOSKY
Enlarge | Buy This Image
Although lead-tainted pipes and drinking water have been a national focus because of health crises in Flint and Sebring, Ohio, the Centers for Disease Control and Prevention identifies lead-based paint as the most widespread source of lead exposure for young children.
Health effects of lead exposure include developmental delays, sluggishness and fatigue, hearing loss, delayed language development, hyperactivity, aggression, and impulsive behavior.
Ohio Department of Health data from 2014 show 239 children younger than 6 tested in Toledo had confirmed blood lead levels of 5 micrograms per deciliter or higher, the threshold the CDC considers lead poisoned. Of those, 71 children had levels of 10 micrograms per deciliter or higher.
U.S. Census data from 2014 estimated there were more than 121,000 housing units in Toledo built before 1980. Those built before 1978 are likely to have lead hazards if they have not been treated.
The ordinance, citing Ohio Department of Health data analyzed at Ohio State University's Kirwan Institute for the Study of Race and Ethnicity, reports that there are likely more than 3,400 children younger than 6 in Toledo with a blood lead level of 5 micrograms per deciliter or greater.
Property owners in Toledo are not required to do any remediation for lead hazards until after a child living at the residence has tested positive for elevated blood lead levels.
Championed by the Toledo Lead Poisoning Prevention Coalition, the proposal being prepared for consideration by city council is modeled after a similar ordinance in Rochester, N.Y.
The Rochester measure also focuses on preventive measures and requires rental properties to be registered as lead safe before they go up for rent. In the more than 10 years since it went into effect, Rochester city officials tout an 80 percent decrease in children testing positive for elevated blood lead levels.
On Thursday, the Lucas County Regional Health District board endorsed the Toledo proposal at its monthly meeting.
Proactive, not reactive
Members of the Toledo Lead Poisoning Prevention Coalition, with members representing Advocates for Basic Legal Equality, the health department, and Toledo Fair Housing Center, say it is unacceptable to have a system based on reacting to children after they have been poisoned, rather than prevent the poisoning.
Phyllis Autry, a social worker for the Toledo-Lucas County Health Department, said the current system "uses children as lead detectors" because abatement orders don't come until after a child tests positive with elevated lead levels. By then the damage is done.
Sarah Jenkins, director of communications and outreach for Toledo Fair Housing Center, said access to lead-free housing is a civil rights issue.
"We have a responsibility that all children in our community have access to safe and healthy housing," she said. "Where you live affects your access to economic opportunities."
A Toledo lead-safe rental ordinance was proposed and discussed in 2014, but city council never voted on it. At the time, then-council president Paula Hicks-Hudson said she supported the measure. Councilman Rob Ludeman criticized the proposal at the time, saying it "would just kill" the city's rental market.
Mayor Hicks-Hudson said she is still supportive of the measure.
"To protect children it's important that we be proactive because of the ultimate harm that can occur," she said. "This is not financially prohibitive in the fact that this a containment of lead, not an abatement, which is expensive."
The ordinance is a way to address the problem without putting landlords out of business, she said.
"By getting this certification, they're going to have an extra tool [to market] their property because they can say to a potential renter ... this is a more attractive place for your children to live," she said.
Mr. Ludeman said he had not yet seen details of the new version, but said if it looked similar to the previous proposal, he would have concerns, especially that it targets landlords and would be too costly.
"We have enough vacant properties in this city, if a house is worth $10,000 and it cost $15,000 to remediate, they're just going to walk away," said Mr. Ludeman, who is a real estate agent. He said he would advocate for educational efforts rather than a mandate to inspect every pre-1978 rental property.
Robert Montgomery has been a licensed lead abatement contractor for 16 years.
"If a child has been lead poisoned, the average price [for lead abatement orders] is between $16,000 and $20,000," he said.
Mr. Montgomery expressed concern that any mandate for the city would be cost-prohibitive for property owners. He also advocated for education efforts, including on cleaning measures that would eliminate lead dust in homes. He said more grants need to be available to pay for lead hazard remediation.
ABLE managing attorney Robert Cole said being proactive is not only protective for children, but cost effective for property owners.
Mr. Cole said the interim controls often cost between a few hundred to a few thousand dollars, a smaller financial investment than forced abatement orders.
"There is no economic reason why we cannot guarantee that a property is lead safe," Mr. Cole said.
Contact Lauren Lindstrom at llindstrom@theblade.com, 419-724-6154, or on Twitter @lelindstrom.
Guidelines: Please keep your comments smart and civil. Don't attack other readers personally, and keep your language decent. Comments that violate these standards, or our privacy statement or visitor's agreement, are subject to being removed and commenters are subject to being banned. To post comments, you must be a registered user on toledoblade.com. To find out more, please visit the FAQ.