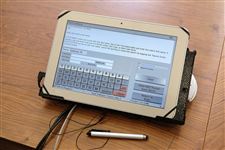 Lucas County Board of Elections is looking at either Election Systems and Software of Omaha with its electronic pollbook above, or Tenex Software Solutions of Tampa, Fla.
THE BLADE/ANDY MORRISON
Enlarge | Buy This Image
Starting with Toledo's municipal primary in September, poll workers will use electronic tablets to keep track of who's voting instead of thick, printed lists.
The Lucas County Board of Elections is set to vote March 3 on which of two computer tablet vendors it will use. Both vendors had representatives at the elections board's regular monthly meeting Tuesday.
The 550 computer tablets will replace the bulky signature book and clerk book that are assigned to each of the county's more than 300 precincts at election time.
LaVera Scott, deputy director of the elections board, said the board has held several mock elections to allow its staff to try out the competing products and weigh in on which one works best.
"We gave them evaluations, and since they are the ones who are going to use it, we thought it definitely would be beneficial to get their input," Ms. Scott said.
The goal is to use the machines in the Toledo municipal primary Sept. 12 to sign in voters and then again in the countywide general election in November.
BLADE BRIEFING: Tom Troy on electronic pollbooks
The machines are expected to cost up to $836,000, with the Ohio secretary of state's office furnishing about $517,000 and Lucas County responsible for the remainder.
Ohio Secretary of State Jon Husted said the Ohio General Assembly in 2015 appropriated $12.75 million to pay up to 85 percent of the cost for the "e-pollbooks."
Mr. Husted said the machines will reduce check-in lines at the polls and improve election technology.
So far, 61 Ohio counties have implemented electronic pollbook technology, with 21 having done so prior to the grant money's approval.
Lucas County Commission President Pete Gerken said the board of commissioners intends to buy the machines despite a current budget squeeze.
He said the Ohio Secretary of State closely oversees the elections board but expects Lucas County to pick up much of the operation's cost.
"More unfunded stuff from the state," Mr. Gerken said. "The secretary of state has authority, but when it comes to cost, his hands are stuck in his pocket."
Mr. Gerken said it's up to the board which system they choose.
The vendors are Tenex Software Solutions of Tampa, Fla., which uses an Apple iPad-based system, and Election Systems and Software of Omaha, which uses a Toshiba tablet that runs Microsoft Windows.
Both have customers in Ohio, including Montgomery County (Dayton) for ES&S and Hamilton County (Cincinnati) for Tenex.
Elections Director Gina Kaczala said Lucas County has to decide soon, both to get its machines ordered and to avoid missing a June 30 deadline to use the money.
"Both of these are pretty much neck and neck," she said, with employees putting a high value on being able to set up and take down the machines easily. She said a third vendor was rejected because its unit had too many parts.
Ms. Scott and Ms. Kaczala said the electronic pollbooks' advantages are that they immediately update the voter-registration database when a voter signs in. At present, elections board staffers laboriously review two sets of election books to record who voted, a process that takes two weeks.
The books will cut down on the kind of human error that occurred in the last election when a pollworker accidentally had a voter sign in the space for a different voter with a similar name, temporarily creating suspicion of voter fraud.
"It will increase the accuracy of voters getting the correct ballot," Ms. Scott said.
The machines will also capture the voter's updated signature style.
Ms. Scott said she believes Ohio eventually will leave behind the current practice of having more than 200 polling places sprinkled throughout Lucas County, requiring more than 1,200 temporary workers, and switch to a handful of voting centers. The electronic books all are linked to the voter-registration database, unlike the paper books that each have the names only of the voters in a specific precinct.
Another potential advantage is that the machines will allow precinct poll workers to wrap up their work more quickly after the polls close — in 30 minutes instead of 60 minutes, allowing election results can be counted and announced faster.
Contact Tom Troy: tomtroy@theblade.com or 419-724-6058 or on Twitter @TomFTroy.
Guidelines: Please keep your comments smart and civil. Don't attack other readers personally, and keep your language decent. Comments that violate these standards, or our privacy statement or visitor's agreement, are subject to being removed and commenters are subject to being banned. To post comments, you must be a registered user on toledoblade.com. To find out more, please visit the FAQ.