COLUMBUS — Hoping to galvanize the frustration seen in last year's election, an effort is under way to recruit Ohio to support a constitutional convention to limit the power of Congress to rack up debt and raise taxes while also seeking to limit members' stays in Washington.
"If you want to talk about the will of the people, if you get 38 states to agree to and ratify an amendment, that's the will of the people," said Steve Stechschulte of Westerville, the director of the Ohio Project, Convention of States.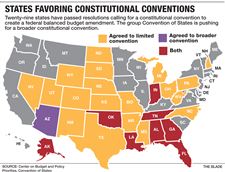 THE BLADE
Enlarge | Buy This Image
"That's not the will of just a few people," he said.
Resolutions are pending in both the Ohio House and Senate to make Ohio the 10th state to seek a "Convention of States" under the second of the two processes in Article V of the U.S. Constitution.
The first method would require the cooperation of Congress in directly submitting a proposed amendment for ratification by state.
The latter requires the support of at two-thirds of the 50 states, or 34, to force the hand of Congress to set a convention in motion. A total of 38 states must ratify anything that emerges from the convention before it could be a part of the Constitution.
But the idea of reopening the Constitution for any purpose sets off alarm bells for some.
"Once that can [of worms] is open, you can't put the lid back on," said Carrie Davis, executive director of the League of Women Voters of Ohio, echoing the position of its national organization.
"You cannot limit an agenda of a constitutional convention," she said. "The whole concept, which is a concerted effort by certain political groups in different states, raises a real risk of a runaway convention tackling any issue under the sun."
In the run-up to his announcement for the Republican presidential nomination in 2015, Ohio Gov. John Kasich hit the road to promote such a constitutional convention exclusively to insert a federal balanced-budget requirement into the Constitution.
Ohio Gov. John Kasich spoke favorably of the possibility of a constitutional convention while running for president.
ASSOCIATED PRESS Enlarge
Ohio and Michigan have passed resolutions supporting that.
In all, 29 of the 34 states needed have approved varying forms of the resolution supporting a constitutional convention only to consider a balanced budget amendment.
This proposed Convention of States would go beyond imposing fiscal restraint. It also seeks to generally limit the power and jurisdiction of the federal government and impose term limits on Congress and other federal officers.
"If we're going to go to the trouble of going to this convention and getting 34 states to agree to it, we believe that we need those further limits on power and jurisdiction, the fiscal restraints which would include tax and spending restraints, and then, of course, term limits," Mr. Stechschulte said.
Supporters prefer to call this a "Convention of States" rather than a constitutional convention, arguing that the resolutions passed by the states would specifically limit discussion to those three topics and any subject beyond that scope would be voted out of order by delegates representing the states.
That's what happened at a mock-convention the group held last year in Williamsburg, Va., supporters said.
The resolutions offer general topics for discussion and do not propose specific amendments.
But last year's mock convention did propose six unofficial amendments that would require a two-thirds vote of Congress to increase debt, a three-fifths vote to raise taxes, limit congressional authority to regulate interstate commerce in some cases, give states a tool to abrogate federal law, make it easier for Congress to force votes on administrative rules, and limit House members to six two-year terms and senators to two six-year terms.
"The national debt of the United States continues to grow at an alarming and unfettered rate — currently $18 trillion," Sen. Matt Huffman (R., Lima), sponsor of the Senate resolution, told a Senate committee. "At the same time, the federal government's power is steadily increasing, yet its efficiency and attention to constituents seems to diminish every day.
"While Congress is deeply entrenched in Washington politics, our states have firsthand experience with the debt crisis and the effects of burdensome regulations to businesses and local governments," Mr. Huffman said.
Indiana is the only Midwest state to approve the resolution. Also on board are Alabama, Alaska, Arizona, Florida, Georgia, Louisiana, Oklahoma, and Tennessee.
All are states that, like Ohio and Michigan, supported Donald Trump for president last November.
That voter movement that surprised pollsters and led to a Trump presidency may or may not be a boon to the Convention of States movement, Mr. Stechschulte said.
"What we find is there are positives and negatives," he said. "The positive I've seen is that people saw they can actually do something with the election of Donald Trump, because that was really unexpected. ... On the other side, there's the feeling too by folks ... that we did what we had to do, everything can be fixed that way.
"... On balance, I'd say it hasn't changed the amount of support we've gotten one way or the other."
Ms. Davis, of the League of Women Voters of Ohio, pointed to the 1787 convention that was called for states to rework the Articles of Confederation but created the U.S. Constitution instead. While most would agree the end result was a good thing that has stood the test of time, she noted that there's still a lesson there.
"Once a convention is called, the delegates set the agenda," Ms. Davis said. "Other interest groups want to write all kinds of things into the constitution. They have various views.
"Some want a balanced budget amendment, to rewrite the Second Amendment, to overturn Citizens United. Depending on the political side you're on, you're going to like some of those and dislike others. You can't limit those."
Contact Jim Provance at: jprovance@theblade.com or 614-221-0496.
Guidelines: Please keep your comments smart and civil. Don't attack other readers personally, and keep your language decent. Comments that violate these standards, or our privacy statement or visitor's agreement, are subject to being removed and commenters are subject to being banned. To post comments, you must be a registered user on toledoblade.com. To find out more, please visit the FAQ.