Best-selling author J.D. Vance said the rise he experienced, from an economically struggling, drug-affected family in Appalachia to financial success, is open to fewer and fewer people, in remarks to a dinner of the Lucas County Republicans Monday night.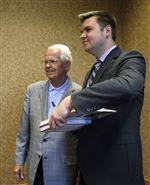 'Hillbilly Elegy' author J.D. Vance, right, signs his book for Harvey Tolson during the 2017 Lucas County Lincoln Day Dinner at the Pinnacle in Maumee on Monday.
THE BLADE/LORI KING
Enlarge | Buy This Image
Mr. Vance — whose book Hillbilly Elegy is a memoir of his family struggling to maintain a middle class standard of living in Appalachian Kentucky and southwestern Ohio — was the keynote speaker at the party's Lincoln Day Dinner.
He said growing up in Middletown, Ohio, his mother was addicted to prescription drugs and his life was dangerously unhinged. He said he was saved by his grandmother, who took him in.
"Kids who grow up in stable environments are much more likely to survive. That three years with Mamaw, that three years really saved me. The story of my life from that point is a really positive story," said Mr. Vance. He joined the Marine Corps, went on to college, and went to work for a venture capital firm in Silicon Valley, Calif.
He has since returned to start a nonprofit organization to tackle Ohio's problems of drug addiction and breakdown of the family.
About 400 people attended the dinner at the Pinnacle in Maumee.
Mr. Vance urged the Republican Party to promote policies that will restore upward mobility to the working class.
"Stories like mine are less and less common today. The prospects of a kid growing up at the bottom of the socio-economic ladder and rising to the top is less and less frequent," Mr. Vance said. "We know the American dream is in crisis because of the data."
He said keeping good jobs and creating rising wages is what got President Trump nominated and elected, and he has to live up to those promises.
"It's going to take more than 100 days and the problems that exist in these communities are really complicated," Mr. Vance said. "The appropriate standard is going to be two years or four years."
In an interview, he cited a ABC News/​Washington Post poll released Sunday found that 96 percent of the people who voted for Mr. Trump in November would do it again.
"That's pretty clear evidence that they're pretty happy with him," Mr. Vance said. But he said it's way too early to know whether Mr. Trump will keep those voters happy.
Hillbilly Elegy was published in June, 2016, just after Mr. Trump won the Republican nomination. Mr. Vance's book helped explain the appeal of Mr. Trump to white working class voters.
"I saw that there was a lot of frustration. And he obviously saw the same thing. I wrote a book about it. He ran a campaign on it," Mr. Vance said.
The crowd heard from candidates for statewide office, including two Republicans for governor, Attorney General Mike DeWine and U.S. Rep. James Renacci of near Akron.
"Ohio is not going in the right direction. We've gone from 21st to 37th in job creation. The only thing we're No. 1 in is opioid abuse," Mr. Renacci said.
A licensed CPA who owned a nursing home in Maumee from 1995 to 2000, he emphasized his business record.
"I'm the only candidate who's created 1,500 jobs and employed over 3,000 people. We need Ohio to be the land of opportunity for Ohioans so they don't have to find opportunity elsewhere," Mr. Renacci said.
Mr. DeWine promised to be an advocate for business.
"No one will be on the phone more with companies trying to get them to come here. But the vast majority of the jobs that we create in the next decade are going to come from people that are here," Mr. DeWine said.
He said rational taxes and regulation and education are the keys to creating a small business environment.
"The No. 1 complaint from business — they can't find people to work — can't find people to pass the drug test, who have the background to take the particular job," he said.
Contact Tom Troy: tomtroy@theblade.com or 419-724-6058 or on Twitter @TomFTroy.
Guidelines: Please keep your comments smart and civil. Don't attack other readers personally, and keep your language decent. Comments that violate these standards, or our privacy statement or visitor's agreement, are subject to being removed and commenters are subject to being banned. To post comments, you must be a registered user on toledoblade.com. To find out more, please visit the FAQ.